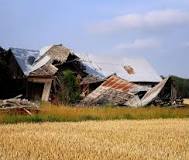 Ministry structure that was once strong and vibrant can collapse just like this barn. A lot of factors go into this. Bad design. Poor materials. Hubris. Apathy. Accidents. Finances. Disease. Vision leakage. Personnel change. Weather.
I'll leave it to others to diagnose. I just know it is a real thing. We see it all the time in our work with churches as their accounts with us mature and are used more broadly.
Almost since the beginning of the company I've said that the two primary roles of church software are: 1) to help define structure that reflects the church's strategy, and 2) provide feedback that informs vision. Vision drives strategy. Strategy drives structure. Structure drives feedback. Feedback informs Vision. This is the cycle of ministry praxis. Any missing or lame segment, over time, can bring down the house.