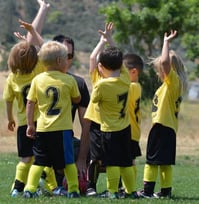 Last week I shared how church is critical to understanding the self-evident truth that all people are created. This week I want to look at how a teams world-view is developed and how it gives people the best chance to realize the second self-evident truth - that all people are equal.
Together I hope this two-week, Fourth of July inspired series of blogs gives a little perspective on what we are seeking to do as a company.
Church + teams
If you read Purpose Driven Life, you know that Pastor Rick starts the book with the phrase, "It's not about you." I'm not sure how well we really believe this considering the discourse, discord, and polarization of our day. But, it really is a brilliant, Biblical insight into the starting blocks for finding purpose. A little bit of our story.
When Mark and I started this company we discussed how ownership should be distributed. I had always heard that one person needs to have final say. Mark pushed back and asked, "why?" As I wrestled with that question, I recognized that I was looking at it as if this yet-to-be-named company was about me. I have a bent that way.
So, I did as I always do in those cases and prayed for direction. As often happens a verse of scripture came to mind, Philippians 2:3-4 ...
Do nothing out of selfish ambition or vain conceit. Rather, in humility value others above yourselves, not looking to your own interests but each of you to the interests of the others.
I shared this with Mark and we agreed that in our partnership we would look out for each other's interests above our own. Twenty-two years later we have lots of stories about how we've done that for each other.
As we grew, this value of looking out for others was so ingrained that we applied it to our primary value for support. Our key value / verse for support is closely related but comes from Jesus' words in Matthew 7:12, you probably know the verse as the Golden Rule ...
So in everything, do to others what you would have them do to you, for this sums up the Law and the Prophets.
The cool thing now is that our staff owns this value as much as we do. We're here for each other by overlapping our skill sets and roles. In addition, customers give us kudos for staff team members all the time for their above-and-beyond service.
The point is this. Whether we're a co-founder, CT staff, a church IT guru, or a technologically uncertain ministry assistant; we're all equal. We're all here to look out for each other, to play our role on the team.
Years ago, Mark encouraged our team with Hebrews 6:10 ...
God is not unjust; he will not forget your work and the love you have shown him as you have helped his people and continue to help them.
When we decide it's not about us but about Jesus, and choose to align our life and work with His ways, God is pleased. There's something amazing about knowing that your creator, designer, father is pleased. Something far better than terra limited values like money and market share. These are fine, but not worthy of being ultimate.
I have some idea why this self-evident principle of equality through humility is so overlooked in our society as a whole. But, I know for certain that self-evident truths created by God don't change. And, if we simply choose to live by them, life works better.