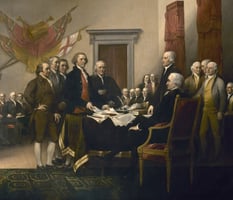 The second paragraph of the U.S. Declaration of Independence begins, "We hold these truths to be self-evident, that all men are created equal, that they are endowed by their Creator with certain unalienable Rights, that among these are Life, Liberty and the pursuit of Happiness."
I woke up this morning with a profound gratitude for the country in which I live. I see the fear, anger, and polarity; but I've seen other things as well. One of these is an idea for a software company serving churches having the opportunity to take root and bear fruit.
It occurs to me that this famous sentence from the Declaration assumes that people didn't come to be by chance. They are created. There is a Creator. The c is capitalized.
So, what if this Creator has a purpose for us; for you, for me, for all of us together?
That would bring meaning to our lives individually and direction to our lives together. That would provide us light in the darkness. That would gives us a clearer path forward. It would makes us more healthy, more attuned to our Creator's purpose. This alignment with the Creator's purpose has always been the purpose of the church.
One of my favorite quotes regarding the church as it relates to the "course of human events" comes from Catholic Cardinal Francis George around 2010.
"I expect to die in bed, my successor will die in prison and his successor will die a martyr in the public square. His successor will pick up the shards of a ruined society and slowly help rebuild civilization, as the church has done so often in human history."
This longer view of history is helpful when thinking about the role of the church. I love my country, but I love the church even more. It is the place the Creator set aside for people to wrestle with and most intentionally live out His transformative purpose. It has been and still is imperfect. Sometimes it is confusing and even bipolar. But, it's still the church, the bride of Christ. And, Jesus is still the Founder and CEO.
So, I'm grateful today for the privilege of serving the church.