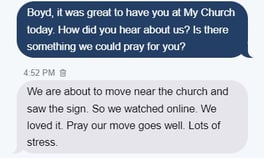 Last week about 30 of us did a customer and staff Zoom Roundtable on the topic of ways to use Text-to-Chat. Here is the problem in the words of one participant.
"I think there is potential, but we have a lot to learn. Good feature—just need to figure out how to best use it."
We all recognize that chat provides a familiar way (text) to help close a church's communication loop (feedback). We came up with and voted on seven different ideas on ways to use Text-to-Chat. Here are the top three.
Live response from stage. Gives speakers the ability to elicit feedback from the audience. This would be great for things like prayer requests, message responses, needs, resources, input on a topic, or anything else. Responses can be viewed and responded to in real time by multiple people on any type of device.
Because there is no limit on number of chat threads, this could potentially become overwhelming. But multiple people responding could help manage this. In case you're worried about cost, the incoming texts are free, only outgoing responses count toward and above your monthly allowance.
Reply to mass texts. Send a text to groups of people based on virtually anything to get their input. Imagine asking your group leaders for suggestions on topics for the next training event. Text your senior adults to make sure they're okay after a winter storm or a summer heat advisory. Text parents of sixth graders to see if their kids are going to make it to Saturday serving project. You get the idea. Here are some benefits:
Use groups and filters to create your text recipients. Saves creating a text group on your phone.
Use the church Text-to-Church #, not your phone #.
Reply to workflows. Workflows allow you to target and automate communication to specific people at specific times. For instance, (see above image) create a text template asking first time guests how they heard about your church, or how you can pray for them. Place this text in a first time guest workflow that launches when someone clicks that option on a digital connection card or registers for the first time during check-in.
Got another example to share? Text me at (817) 405-9750.