We just released a check scanning feature within the contribution batch data entry screen. It is designed to work with a Magtek 22523009 scanner (pictured below). This scanner has a USB keyboard interface so it plugs into a PC or Mac and acts just like a keyboard when you scan a check. It requires no setup other than plugging in the scanner. When you test it by scanning a check, you will see that it types for you.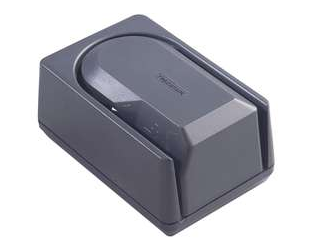 When entering a batch you will see the option to "Scan check ..." (below) in the Contributor search field. When the cursor is in this field, scan a check or type last name, first name as before to locate the contributor.

The first time a new account number is scanned into the system you will get the following message letting you know it's an account number not linked to a person in Churchteams. Use the Name search or the Add New Contributor link to tell the system which person this account is associated with and finish entering the full contribution information. Once the contribution is saved then that account is linked to that person and future scans of checks from that account will automatically locate that person and populate the check number into the Check/Reference # field in the data entry form.

Another enhancement to the contribution data entry batch is a feature that will catch if the same person has two contributions with the same Check/Reference # to help prevent duplicate entries within a batch. If that happens the following message will be displayed.