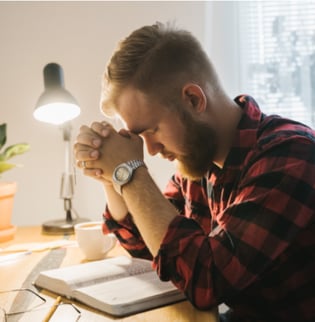 In last week's blog I made the case that the best way to measure discipleship is by tracking the signs (or indicators) of Jesus followership in a person's life. One of the first and most fundamental signs is commitment.
Commitment to Christ and commitment to his church. Let's consider these and then how to use data to track them.
Commitment to Christ. Following Jesus starts by responding to an invitation from Christ to follow him.
"I have been crucified with Christ and I no longer live, but Christ lives in me. The life I now live in the body, I live by faith in the Son of God,who loved me and gave himself for me." Galatians 2:20
Whatever faith tradition you come from, you probably look back to a time that reminds you of your commitment to follow Jesus. If that's new to you and you're curious, let me know. I'd be glad to share my story and hear yours.
Commitment to Church. Just as a family is essential for a baby to survive, so other christians are essential for a new believer to learn how to walk with Jesus. This is the role of the church.
"And in him you too are being built together to become a dwelling in which God lives by his Spirit." Ephesians 2:22
The natural extension of commitment to Jesus is commitment to His church. In fact, as this verse indicates, our life together is where God by his spirit lives.
I could go on for a long time looking at scripture around the idea of commitment to Christ and His Church. But, the unique proposition of this blog post is that you can use data in your database to track these commitments.
Data. Let's start with the obvious. Most churches have some sort of process for becoming a member that they track in their database. There are often a series of steps involved like 1st visit and 2nd visit that lead to a membership class or something similar. In this class, or sometimes it's just an interaction with the pastor or other church leader, the person has the opportunity to express his or her commitment to Christ and desire to commit to the church. This is typically tracked in member attributes like:
Church member type (Dropdown)
Completed new members class (Date)
Joined the Church (Date)
Method joined the Church (Dropdown)
You probably have this data, but how available is it to you? You likely use it for reports, but how helpful is it to you in pastoral interactions with people? Church member type is so significant that we added it to the information section below custom attributes on every member profile.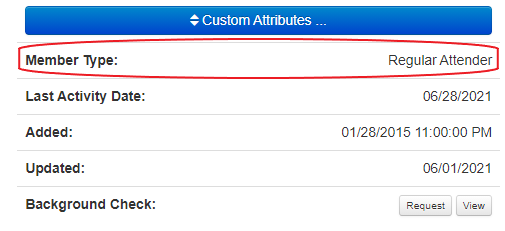 One of our discoveries since releasing Scheduled Reports last December is that the "Mass Update Member Attribute" could be used to populate new custom attributes that reflect discipleship signs (like commitment) based on actual data. Here's the process.
Create the new attribute. Members > Settings > Member Attributes. Generally this will be a dropdown list. For Commitment the dropdown options might be something like Rick Warren's circle of commitments:

Community

,

Crowd

,

Congregation

,

Committed

,

Core

.
PIN the attribute. Members > Settings > Pinned Attributes. These will pin the attribute above the Custom Attributes dropdown.
Select the report type. Reports > Member > Mass Update Member Attribute. Select the attribute (Commitment) and then the response you want to populate (ex. Core).
Select the filter options that indicate a person has a (Core) level commitment. Filters > Members > Church Member Types > Select Church Member Types.

Core - Member + another filter like giving, group or serving roles.
Committed - Church Member
Congregation - Regular Attender
Crowd - Guest
Community - Guest or Unkown + attended an outreach event
Also, find the Commitment attribute and "Exclude" those who are already "Core" from the report.

Save the report. Click "Add to Saved Reports" and give the report a name. Example: Disciple - Commitment, Core.
Create and save similar reports for each response to the Commitment attribute.
Schedule the reports. Reports > Schedule Reports > +Schedule a Report. Fill out the details form including the frequency and start date for running the report. I would think that running the report to populate Commitment once a month would be fine, but you may want to do it more frequently.
Here is the result of an updated, Pinned attribute for Commitment above the Custom Member Attributes dropdown.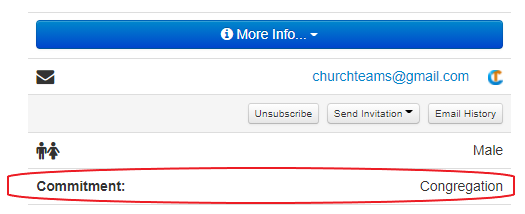 Once you have followed these seven steps, the system will populate the Commitment attribute for each person in your database automatically. All you have to do is make sure the other attributes like church member types are entered correctly. It's pretty cool.
Next week, we'll give some ideas for Stewardship tracking using a similar process.