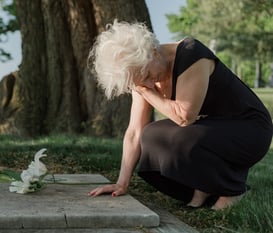 We've been through a traumatic few years in the life of our country. It is the topic of sermons, podcasts, blog posts, conferences, books, and everyday conversations. But, for some of the people in your congregation the trauma has been far greater than for others. And it may have nothing to do with either Covid or culture.
The trauma I'm speaking of is the loss of a spouse, family member, or close friend. It is during these dark times that the church often shines the brightest. And, when it does the spouse or family members are forever grateful for the encouragement, prayer, help, and care they receive.
In the past few years, we've had many conversations with churches who want to make sure that those in their fold who suffer this level of grief were not being forgotten in the weeks and months after their loss. They want to make sure that their pastoral care system is well thought through and well executed.
Churchteams was made for this. Email and text templates provide delivery and some content. Notes create tasks and reminders for personal touches. Our new Landing Pages feature allows for creation of deeper level content. Workflows bring all of these tools together. Here's how.
Map it. Like any workflow, the place to start is to create a map of the actions and communication pieces you want to include in the workflow and the timing of each. Here's an example of one church's process.
Send grief booklet 3 weeks after the death of the spouse.
Send another booklet at the 3 month point.
A third one at 6 months.
A final one at 9 months.
With the recent release of Landing Pages, here's how I would modify the same idea adding a couple of pastoral contact reminders.
3 weeks - Create a note w/ task for pastor to call.
6 weeks- Send personal text asking how doing with link to landing page 1. Open-ended question to give them opportunity to interact using Text-to-Chat.
12 weeks - Personal text with link to landing page 2 and opportunity to Text-to-Chat.
26 weeks - Personal text with link to landing page 3 and opportunity to Text-to-Chat.
40 weeks - Personal text with link to landing page 4 and opportunity to Text-to-Chat.
52 weeks - Note w/ task for pastor to call.
Resource it. The next step is to build the text templates and landing pages. There are a number of places that you can go to get content for each of these. I have watched the ministry of GriefShare help people for the last couple of decades. Your church might have an account with RightNow Media. They have several excellent series on grief that might be helpful. Your pastoral staff likely have resources they already use.
If you are promoting a group or a video series, I suggest putting a few key ideas on the landing pages to pique people's interest and then provide a clear follow up call to action. This might be to sign up for GriefShare or to set up an account in RightNow media.
Build it. Once you have all the pieces created, select the Workflow option in the Create Card and schedule when you want them to be sent using the Wait For ... option. If it's helpful, you may create a group so that enrolling people in the group enrolls them in the workflow. However, that is not a requirement. You can add people to a workflow right from their member profile and see where they are in the process by clicking the People or History tab on the Workflow page.
Launch it. The final step is to click the option to make the workflow Active. Your workflow is now ready to work for you.
One of my favorite Billy Graham quotes is this, "Mountaintops are for views and inspiration, but fruit is grown in the valley." Those of us who've walked the path of life and ministry for many decades know that our sweetest fruit grows by simply walking with friends through the valley of the shadow of death. Let's do it well.
Join us for the Assimilation & Workflows Briefing - October 18