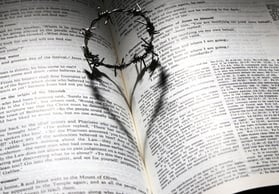 The Roundtable this Thursday starts our discussion on workflows. We'll have different users share some of their favorites and brainstorm possibilities for using this powerful feature. But, with Easter coming soon, I thought it would be good to consider how workflows might help with Easter communication.
First of all, be clear on your goal. Map it out. Write it down. Here are some examples.
The goal is to send an email (or text) each day of holy week leading up to Easter.
The goal is to get first time Easter guests to return a second time with a series of 6 emails, texts and personal phone calls over the next 4 months or until they come back.
The goal is to build on the message of Easter by sending key reminders and applications by text the following week.
Second, resource the workflow by building the email and text templates that you will use. Some examples for the holy week preparation workflow.
Palm Sunday. Triumphal entry. "See your king comes to you, righteous and victorious, lowly and riding on a donkey." Zech 9:9
Monday. Jesus clears the temple. "My house will be a house of prayer, but you have made it a den of robbers." Luke 19:45
Tuesday. Mount of Olives. "Unless a kernel of wheat falls to the ground and dies, it remains a single seed.. But if it dies, it produces many seeds." John 12:24
Wednesday. Rest and anticipation. "The hour has come for the Son of Man to be glorified." John 12:23
Thursday. Passover. "I have eagerly desired to eat this Passover with you before I suffer." Luke 22:15
Friday. Crucifixion. "Father, forgive them, for they do not know what they are doing." Luke 23:34
Saturday. In the tomb. "Taking Jesus' body, the two of them wrapped it, with the spices, in strips of linen." John 19:40
Sunday. Resurrection. Are you ready to worship our risen savior? Come on, church! He is risen!
Create texts under Communicate > Text > Templates. For emails, Communicate > Email > Templates.
Third, create the group / event. From the Create card select Event and go through the three steps. Once created, click the blue Registration button > Settings and customize the event. Usually just name and mobile number (for text) and email are enough for the form.
Fourth, build the workflow. From the Create card on the home page > Workflow > Create Workflow. Give it a name and use your goal as the description.
On the Workflow Steps page, click Enrollment and choose the group you created.
Click the + button to add steps. For the preparation workflow, I am adding specific dates between texts so that those who sign up during the week are caught up. They will receive all texts up to the date they sign up.
Wait for > Date/Time > March 28, 8 AM
Send Text Message > Palm Sunday
Wait for > Date/Time > March 29, 8 AM
Send Text Message > Monday
Wait for >Date/Time > March 30, 8 AM
Send Text Message > Tuesday
Wait for > Date/Time > March 31, 8 AM
Send Text Message > Wednesday
Wait for >Date/Time > April 1, 8 AM
Send Text Message > Thursday
Wait for >Date/Time > April 2, 8 AM
Send Text Message > Friday
Wait for >Date/Time > April 3, 8 AM
Send Text Message > Saturday
Wait for >Date/Time > April 4, 8 AM
Send Text Message > Sunday
Fifth, activate the workflow. On the main Workflow page with the names and descriptions of the workflow, click the red Inactive button to activate the workflow. It will turn green. It is now ready to go.
Sixth, get people to sign up for the group. Do this from your website, a church service, text-to-church or any other way you communicate.
Here is a link to the Knowledge Base article on following up first time guests. Use it to help you set up your Easter follow-up workflow. If you prefer, here's a short video on workflows. And, we highly recommend the Automate webinar to learn even more.
Make Easter a little more special this year with an intentional plan for texting or emailing members throughout Holy Week and another one for following up guests who choose to celebrate Resurrection Sunday with your church.