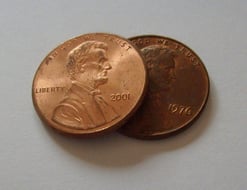 In this short series on texting for churches, we've looked at the history of business texting (A2P) and compared free texting to Text-to-Church (10DLC). In this third post, let's look at the budgeting features built in to T2C to help staff manage their communication budgets.
To start with, texts associated with the following features do NOT count toward your 500 allotted monthly texts or 2 cent overages.
Giving
Registrations
Links to other websites
Inbound individual texts / chat
That accounts for a lot of the use cases you come up with - and these are essentially free (i.e. included in the monthly fee)! Many others in our industry have higher rates and charge for many of these types of texts to boot.
The texts that DO count toward the 500 monthly allotment include:
Workflows
Group texts
Mass texts
Outbound individual texts / chat
Since outbound texts / chat are sent one person at a time, they do not add up very quickly. We've also not seen a whole lot of overages related to texts initiated within a group. At least not yet.
We have seen people create workflows for sending texts to a lot of people on a regular basis. One church sends texts to parents of kids who attend every Sunday with questions for them to talk about on the drive home. Because they have a lot of kids and do this every week, it adds up. But the impact on building families is worth it many times over. It's certainly cheaper than printing handouts to send home.
Generally, though, workflows designed to help with one to one processes like first time guests don't acrue very quickly.
The main way costs for texting add up is through mass texting. This is typically used for things like announcements and reminders to a large percentage of the congregation.
Any time a staff person chooses to send a mass text (Communicate > Text > Send, select Text-to-Church), filter to whomever they want, and run the report to set up the text; the system will calculate for them exactly how much sending the text will cost. This removes all the guess work and alerts the sender to how much of their budget they are using.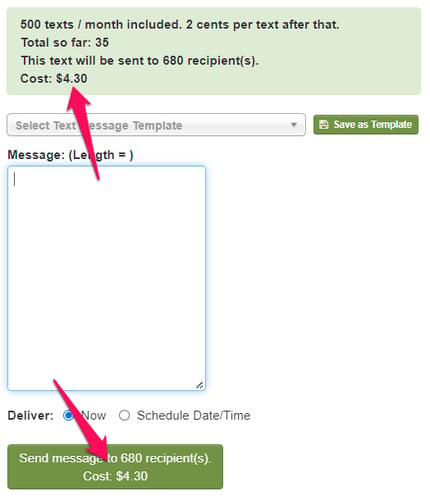 This tool will help manage costs for each mass texting event, but workflows and outbound chats can add up too. To manage the texting budget at the organizational level, go to Communicate > History > Text. You will see the total amount at the top and can use the checkboxes on the right to see costs at a more granular usage level.

We understand that churches think of budgets differently than businesses. Pastors and church financial leaders recognize that they are entrusted with funds people are giving in response to their relationship with God. They know they are expected to steward these resources with excellence to honor God.
We feel the same way about our pricing. We are committed to honoring the Lord and the funds his people give to the best of our ability.
We live in a new day where text is the communication method of choice for most people. It is my prayer that by sharing some history, comparisons and now budget; you will see that Text-to-Church offers value without compromise to serve churches and non-profits.