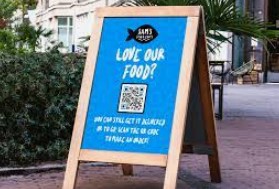 Imagine QR codes attractively posted for quick access as people gather for church: outdoor signs, indoor signs, signs on the back of chairs. Picture people conveniently pointing their phone cameras and clicking a link to check-in. Attendance is taken. Name tags are printed for kids. The family security number is texted back. And people receive a digital version of today's bulletin.
This is not a glimpse into the future. It is already here. In fact many churches are already headed this direction. My wife and I visited 5 different churches in recent months and all but one were using QR codes. They were using them to give people access to connection cards, special events, and digital bulletins (these were just a page on their website).
These are good, but Churchteams can help your use of QR codes be the best out there.
First, start by making them real signs, not just paper taped to a wall or an image on a slide.
Next, with today's QR Code Generators (the-qrcode-generator.com or qrstuff.com) you can create an image that opens up a phone's text messaging app and auto-fills the Text-to-Church number and keyword.
Opening a browser to a page or form is good, but the person still has to fill out the form.
Sending a text is like them logging into Churchteams. This enables the system to pre-fill a form which is better.
But taking them to their family check-in page to check everyone in the family to every activity they are involved in is the best way to use QR codes.
Here are the exact steps a guest or regular attender would do to check-in.
Open phone, point camera at image.
Send the text message brought up by the QR code.
Open the link Churchteams sends back.
Check-in.
Here, try it yourself.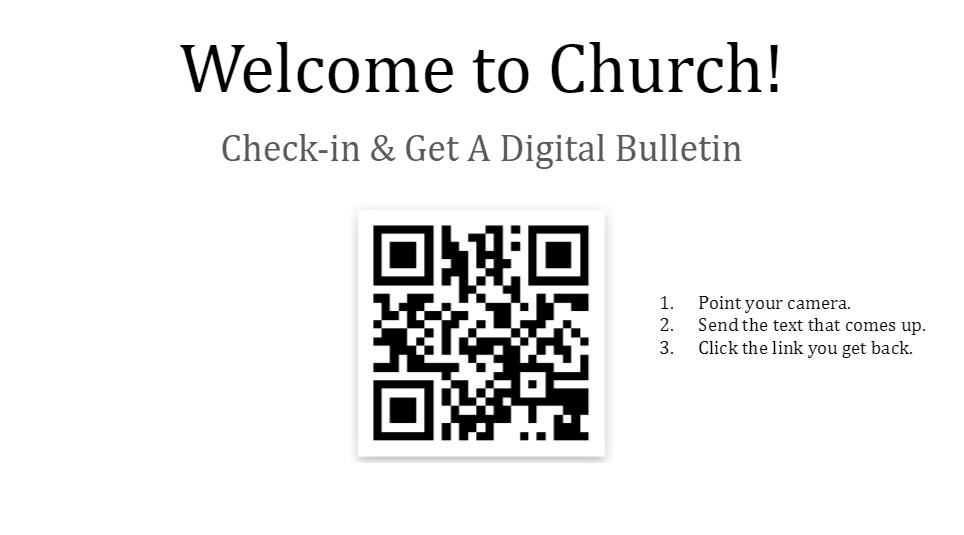 If you've tried our sample Text-to-Church before you may have been in the system already. Otherwise, you saw what a guest would see and how easy it is to get their information.
Here's exactly how you would build this assuming you've already set up check-in (if not, see Help under the Check-in tab) and are using Text-to-Church (listed on home page or click Find Number).
Open up the QR Code Generator and select SMS.
Put in your Text-to-Church phone number and the keyword "check".
Copy the image and add it to your signs.
We've been talking for over a year about the impact of Covid-19 on technology trends. For QR code use, it fanned the flame created by programmers who made QR code readers standard in iPhones since 2017 and Android phones since 2018.
Welcome to the new, digital normal. And we haven't even talked about automating follow-up and improving pastoral care because of everyone checking in (we call it All Check).