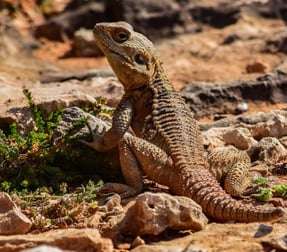 It seems like life's challenges never slow down, much less stop. We turn on the news every day to learn of the latest shooting, natural disaster, economic challenge, social unrest, health guideline, political argument, and now a war.
This sense of constant change weighs heavily on the shoulders of church leaders. How should we respond in light of all this, and what technology tools can help?
This comment from our survey a couple of months ago is insightful.
Pastoring is continuously adapting to circumstances. This has motivated me to be more intentionally focused on applying the mission to right now - pastoring in the moment. This is a good thing, except that it consumes emotional and physical energy. I'm discovering that it is more important to touch base with people by phone so that I can hear their voice, rather than just sending an email or text.
It reminds me of the website design change that happened in the past decade. We now take it for granted that the layout of the content on a web page will adjust as the size of the browser changes or as it is viewed on different devices. It wasn't always that way. Web content used to be entirely static, so it looked terrible when you viewed it anywhere but the size browser for which it was designed. The change is called responsive (or adaptive) design.
Adaptive pastoring is not about changing theological positions to adapt to different people in your congregation. Doing that is like clicking off the web page entirely. Adaptive pastoring is about adjusting our habits to make our interactions with people more personal. It means recalling their unique experiences and better adapting our care to their context.
This is exhausting because our habits (systems) for managing ministry are not adaptive enough to meet people where they are. We have the goal of ...
"becoming all things to all people so that by all possible means we might save some." (1 Cor 9:22)
... but not the systems to consistently and smoothly pursue it.
In his book, Atomic Habits, James Clear famously says,
"You do not rise to the level of your goals. You fall to the level of your systems."
So, how can technology help us develop a system for adaptive pastoring?
I am 100% convinced that it is by providing a simple way for us to track our interactions with people and schedule follow-up conversations.
In Churchteams, we call this feature, "Notes". Most church management and all CRM software these days have something similar. Here's what it looks like.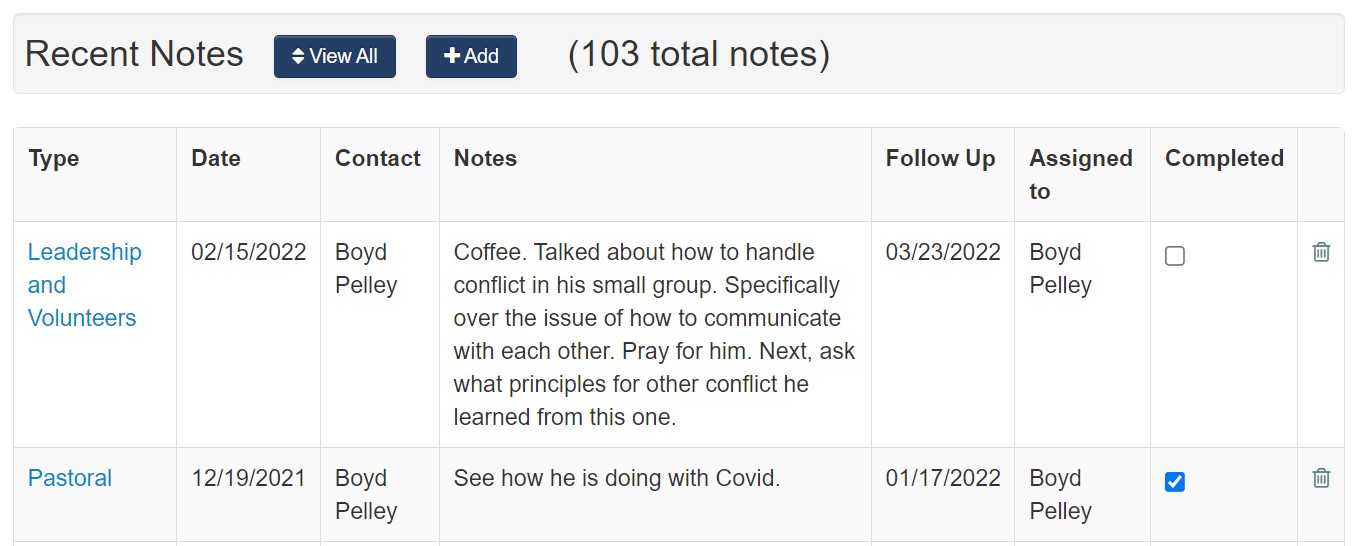 Here are five reasons why this feature drives adaptive pastoring.
It becomes your memory. Part of the drain of pastoring is remembering the details associated with people's stories. Rather than stressing to remember or organize them, we just enter them into their member profile.
It ensures the right follow up. Unlike a sticky note, the notes feature has the ability to send us a reminder to follow-up on the exact day we choose. It includes all details of the former interaction, the suggested follow up action, and one click access to call, email or text.
It helps the team work together. Rather than scribbled notes on a personal journal, conversation summaries are shared with the rest of the team. Obviously, we have to be wise to password-protect confidential notes, but the ones that are relevant and helpful are clearly accessible. This gives our team members background and perspective to best initiate with or respond to a person's individual needs. With a little time, it will become apparent to everyone that our team is different. We work together.
It provides a history for future review. Rather than relying on our memory or asking for the input of other team members, we can review historical notes on every person from within their member record. These give us the ability to see a longer view of the unique journey of every church member. We can go back and see when they had Covid, their parents passed away, and the exact day we visited them and their child in the hospital. This is pastoral care.
It encourages personal conversations. We have the ability to email and text people at our finger tips, but as an adaptive pastor, we've learned the value of personal conversations. With Text-to-Church, we just text ME to see our follow-up assignments that are due. One, maybe two touches and we're talking to the person. When we hang up, we click "Log Note" to enter the important parts of the conversation. We also have the option to assign and schedule a follow up task. Then, we can relax fully confident that we are caring for people well.
You guys, it doesn't look like things are going to level off and go back to our old normal. At some point we are all going to have to accept that reality and make the necessary adjustments.
Digital technology can help us better adapt to the personal needs of people. We just need to learn to use it well. If we do, it will take away some of the emotional and physical stress that weighs on us. We'll be healthier and so will our churches. Let us know how we can help.