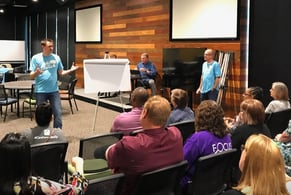 Relationships are a big deal for us. That's obviously true since we build software around relationship management. But, it's also true in how we meet, train and support churches. We love hanging out with you guys!
A number of years ago we started getting questions about User's Gatherings. We decided to try one in April, 2018 and had about 25 friends join us for a really encouraging half day together. Everyone wanted to do it again, but longer. The Facebook Churchteams closed group was birthed from this event.
We are excited to start getting the word out that we are planning another one. Except this one will be roughly two days. Here are the details.
Reasons To Attend.
Relationships. Meet your friends from the FB forum and the CT staff!
Workshop. Get help setting stuff up. Walk away with actual tasks done!
Share and Learn. Creative ways you and others are using the software.
Collaborate the future. Be part of the discussion of what the software can become.
Dates and Schedule.
Arrive May 31.
June 1 - 9 a.m. to 5 p.m.
June 2 - 9 a.m. to 3 p.m.
Location.
Cost.
$75 to cover lunches and help with FOTP expenses.
Travel.
Marriott Fort Worth at Alliance Town Center - $149 + tax king, $159 + tax double queen. These are group rates we contracted with this hotel close to the church. Click here or call (817) 753-6100 and mention "Churchteams Group" to register before 5/1/20.
Register everyone on your team that might be interested here.

We're looking forward to seeing you in 2020!