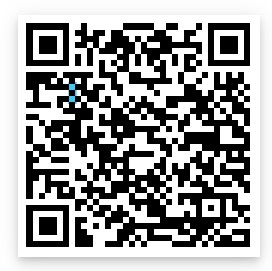 QR (Quick Response) codes are the future. At least that's what we were told - 10 years ago. But, they never really took off. We tried them. You probably tried them.
They did not go away, but their adoption definitely sputtered. However, two events in recent years seem to be catalizing QR codes to their promised level of prominence.
First, the release of iPhone IOS 11 (in 2017) followed by Android 9 (2018). Prior to these releases you had to download and use an app to read QR codes. There were lots of these apps; but downloading one, then finding and opening it on the go made it clunky. Now, all you have to do is open your camera, point at the QR code and click the link.
Second, the Covid pandemic. QR codes are a great way to maintain social distance and yet have tactile access via your phone to the information that previously might have been handed to you as a flyer or church bulletin. You may be using them at your church. I visited a church last week, pointed my camera at the screen and filled out the connection card. Simple.
New things you can do with QR Codes. It used to be that you could just generate a code that linked you to a URL (web page). Now you can build QR codes for smart phones to open any of these applications.
Browser (URL)
Contacts
Phone
Text (SMS)
So, we started playing with these options and discovered not only the typical ways (like the link above) to use QR codes to access webpages (URLs), but some AMAZING possibilities that were new to us and might be to you.
Add-in Text-to-Church. If you to go the-qrcode-generator.com, you'll see this simple tool to create a QR code. I selected SMS and then put in the phone number and key word Demo for our demo account. If you put your camera on the code, it will open your text messaging app, put in our demo phone number and the keyword. All you have to do is send. Try it. Put in a fake child and you'll be prompted to see how check-in works.
Post-release note: Beaconstac has another really nice QR Code Generator site that allows some unique customization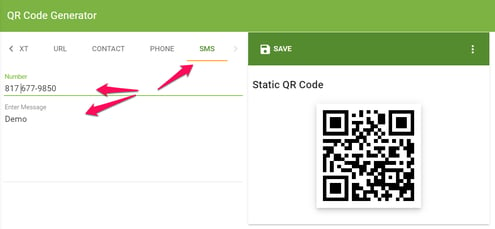 Two Amazing ways to use an SMS based QR code.
Check-in. Put in your Text-to-Church number and the keyword Check. Then place the resulting QR code all around your children's area. Parents walk up, open their camera, click the link that opens their SMS, then Send. They are now on their family page to check-in!
All Check. Expand your use of Check-in by using the same link but configure check-in to use the All Check features and put the QR code on the screen in your worship or on the backs of seats in addition to entrances and the children's area. Result: you have everyone's attendance to worship, classes & serving; and they have your digital bulletin!
Of course, you could also use this same idea to create QR Codes to text links to digital connection cards, registration links and the ME features of Text-to-Church. Your people will love that Churchteams fills out much of the form for them when they send it through their texting app.
One Amazing way to use a Contacts based QR code.
I often say that Text-to-Church is the keystone habit for church regulars and members to use Churchteams. Once they get the idea, they will be much more engaged with other things the database can do for them and their ministry. So, why not give them a QR Code that creates the contact for your church on their phone. If you're not using your church office number for Text-to-Church, just add it as the cell number. Now, they have quick access to email, call and text the church. Use the Contact tab on the above QR Code Generator to create this.
I know that you guys are way more creative than me in using technology like this. My hope is that this little blog post will get you thinking about ways to use QR code technology to its fullest potential in your church.