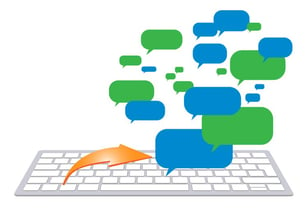 Last week we looked at three reasons why churches should be thinking about using text messaging: 1) texting has a history, 2) people have the app, and 3) people use the app. These mean it is the most widely used and most reliable channel for communication available to us.
In 2021 43% of businesses used texting. In 2022 that number grew to 55%. That makes 2022 the benchmark year that more businesses used texting than didn't. I decided to have ChatGPT do some research for me on how businesses are using texting. The next 6 paragraphs are the AI generated response. I thought you might find it interesting.
Marketing and promotions: Text messaging is an effective way to reach customers with special offers, promotions, and marketing messages. Businesses can use bulk messaging to send targeted campaigns to customers who have opted in to receive texts.
Appointment reminders: Many businesses, such as healthcare providers and hair salons, use text messaging to send appointment reminders to their clients. This can help reduce no-shows and increase customer satisfaction.
Customer service: Text messaging can be used as a channel for customer service. Customers can send a text message to a dedicated number and receive support or answers to their questions.
Order notifications: Businesses can use text messaging to send order notifications to customers, such as confirming orders, notifying customers of order delays, and providing tracking information.
Employee communication: Text messaging can be used by businesses to communicate with their employees, especially for urgent messages or updates. This can be helpful in situations where employees are not able to check their emails or have limited access to other forms of communication.
Surveys and feedback: Text messaging can be used to send surveys and feedback requests to customers. This can help businesses collect feedback and insights to improve their products and services.
I thought that was a good summary, but found this graphic from a Simple Texting survey in 2022 helpful because of the actual data. These percentages reflect all businesses, so 55% is the highest possible percentage rate.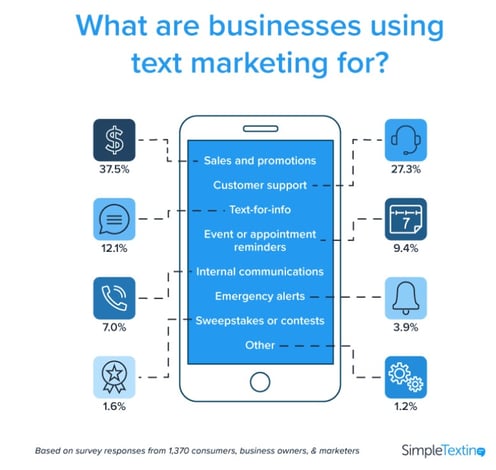 Go back and look again at the AI outline and the graphic. As you do, think about the question, "what is the parallel functionality for churches?"
We've been working on that question since 2016. We'll dive into it next time.