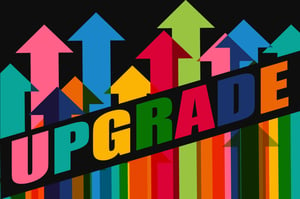 Every year there seems to be a feature that stands out both in terms of our development effort and value to our friends. Usually we look back on a year to determine that, but last night's release of The Dashboard is so significant that it's obviously the winner for 2019. It's a big deal.
As soon as you login today, you will see it.

If you are still using Role Based Passwords you will see a teaser image similar to this with instructions on how to make the change. In September, 2016 we upgraded to our User Based Passwords in anticipation of the day when we could offer customizable content based on individual staff user needs and preferences. That day is here.
The great thing about this upgrade is that the search option and buttons in the black navigation area at the top are still the same. Well mostly. We did change some wording and at the end you'll read about a new Recent Button.
---
Advanced Search - Above The Dashboard you see a new Search box. This is NOT AN INCREMENTAL SEARCH like the one in the top left. It is much more advanced and allows you to enter any Name, Email, Phone, Group, Event or Report then click Go to get there.

---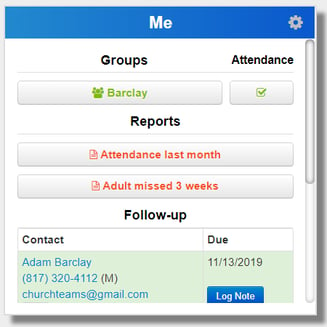 Me Card - The Me Card is designed to give you quick access to your favorite Groups and Reports, Follow-up notes assigned to you, and (not pictured) Volunteer or RSVP schedule. There's even a quick access link to take attendance. This page is very similar to the ME keyword used in Text-to-ChurchTM.
To customize the card to best fit your work needs, click the Settings icon in the top right corner.
When you do, you will be able to re-organize the section order using the up/down arrows and pick the groups and reports that you use the most.

---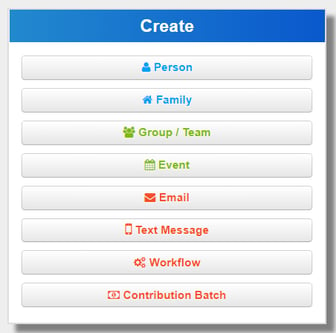 Create Card - This card is designed to make the tasks you already do in the software much more obvious.
You can still do them from the dropdown buttons in the black navigation bar, but with the Create Card you have immediate access when you login.
This will make these tasks a click or two easier for veteran users and much more visible for seldom and new users.
---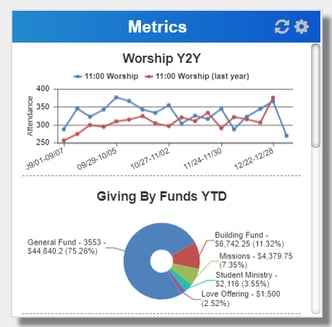 Metrics Card - The biggest investment of programming time in developing this Dashboard release was the development of 2 new report types:
Attendance Chart - Under Group Reports
Contributions Summary Chart - Financial Reports
You will need to create and save reports using either or both of these report types before you can customize the Metrics Card.
The line graph in this illustration represents a saved worship attendance year over year report. The pie chart is year to date giving based on funds.
Here are the new chart report options. Notice that both of them are listed as Saved Reports.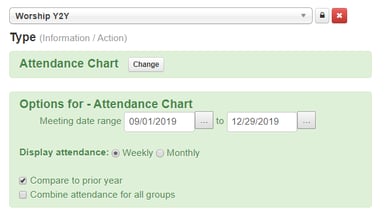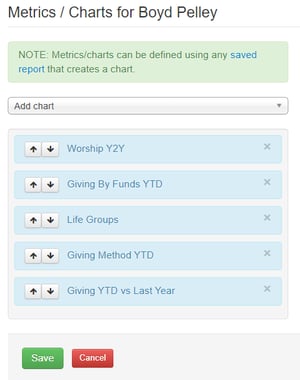 When you click the Settings icon in the top right corner of Metrics Card, you will be able to select from Saved Chart reports and then re-order them however you want.
Notice the slide bar on the right side of the Metrics card above. This enables you to scroll through as many report charts as you want. In this illustration, I've chosen to have 5 different charts available to scroll through.
The software will automatically update your Metrics card reports on Tuesday mornings. Manually refresh them anytime by clicking the refresh icon -

- in the Metrics header.
Play around with these new report types, then save a few that you use frequently and add them into your personalized Metrics Card!
---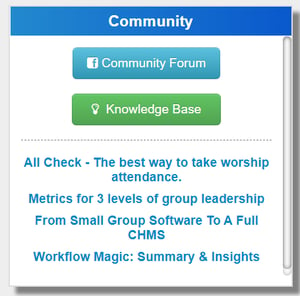 Community Card - Software has to constantly evolve and improve. The key to that from our perspective is great relationships with our users. Last year we created a close Facebook group we call our Community Forum. We now have over 600 of our most active clients helping and learning from each other. Our staff jumps in often as well.
Also, we have done some work this year to upgrade our Knowledge Base as a go to resource anytime. If you haven't seen it, check it out.
Finally, we will link our most relevant and helpful new blog posts for quick access from the Community Card.
---
Text-To-ChurchTM - Beneath the Dashboard is a new Text-to Church bar. If you have a T2C phone number it is in the middle of the bar. Click on it to go to Keyword Central. If not, you'll have instructions on how to get a phone number. The Online Giving link takes you to your giving page or to learn more about online giving if you are not using it. These serve as a quick reference for staff.

---

Recent Button - As you begin to work in a session and find yourself distracted or moving from one location to another, a Recent bar will appear in the black navigation bar. It will have dropdown links for quick access to your most recent work pages.
---
It is our hope and our prayer that this Dashboard improves your ability to use Churchteams both in familiar and new ways. As you play around with it, let us know what you think!
If you're not a client at all, you can take a look at the software with our 30 Day Free Trial and by joining me for a Meet The Software webinar. It would be a privilege to share Churchteams with you as we march into a new decade and a new season for Church Management Software.