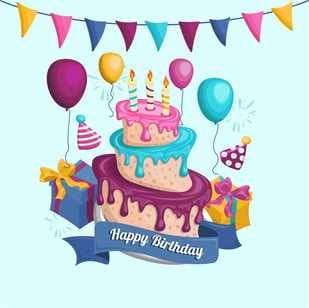 People love to be recognized on their birthday. It's a small thing but means a lot. Many pastors and church staff have decided that it is worth the effort to do something special for their people or a subset of people like their volunteers or leaders on their special day.
You have the data in the database. There are a lot of ways to use it, but if I were developing a system to make this happen, here's how I would do it.
First, I would want to collect or validate the info in the database to make sure we had it right. To do that, click Reports / Communication and choose "Email Request for updated information." Then filter by the people for whom you want to recognize birthdays perhaps just church members, adults, people in groups, or leaders. If you filter to select children, be sure to choose to send the request to related adults (Filters / Members / Family Household Attributes and check "Select related family members" then adults). When you run the report the system will generate an email (you can edit and sign) that will add their name and a unique link for them to click to update their information and then their family's information. (Note: go to Settings / Members / Member Attributes to select the attributes you want them to see by making them visible at the guest or member level).
Second, I would decide whether to send an email, text or handwritten card. Email is easiest and many students and adults rely heavily on email for communication. Text is quick and more personal but doesn't give you the design options. Handwritten notes are meaningful because they indicate an investment of time and thought. Here's how to do all of these:
Create the email template(s) - Communicate / Email Settings / Email Templates. Add in images and text. Be sure to personalize the person's name using the Merge tag.
Create a monthly birthday report - Reports / Members / Member Listing, choose Email and Birthdate options; then filter by Members / Custom Member Attributes and use the Month filter under Birth date range. After you run the report, click on Birth Date header to sort based on day of the month.
Schedule birthday emails for the entire month. To do this, click on the peson's name which will take you to their profile page. Click on the by their email address. Choose your Birthday email template. Then schedule the email to be sent on their actual birthdate.
Because texts are personal and you don't want people responding to a noreply@churchteams.com text, I would run the report (#2) on my cell phone, then click on the person's name and click their cell phone number. I would choose to send a text, type in the message, copy the message for the next ones, and use the schedule feature on my phone's text message to schedule the text to be sent on the person's birthday.
For handwritten notes I would add address to the output of the birthday report to more quickly hand address cards. Another option is to use the Member Labels option under Communication reports as the report type, then filter the same as #2 and print labels to place on postcards.
If you want to recognize anniversaries, use the same process but run the report based on anniversary date.
Finally, in case I miss it, I want to wish you a very happy Birthday. You are a gift to so many people. May the Lord give you a sense of His pleasure and joy on your special day.