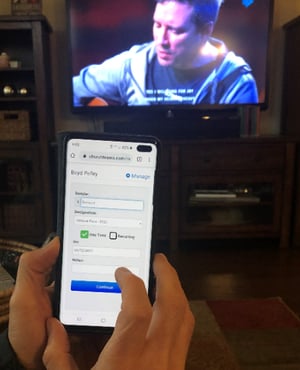 All of us miss being together on Sundays but we're finding new paths to stay connected. Like the creative ways many of you are using Text-to-Church to help.
One recent idea was to use All Check to have people text to let us know they were watching the live-stream or video. It also gives them an opportunity to respond, give and stay informed. Like a church bulletin, but on steroids.
But there was a problem. The system required starting up a label printer in order to use Check-in. So, we changed development priorities last week and are excited to release an upgrade to Check-in that allows you to create an automatic check-in start up schedule without having to start a label printer.
The Upgrade
Now, when you click Check-in there is just one option for everything related to Views / Settings. When you select it, you see this screen. The green button takes you to a re-vamped Knowledge Base article with everything you need to know to set up check-in. Notice, at the bottom, the new "Automated Startup Schedule". Just click the blue button to create a schedule that starts and ends a check-in session. You see I've created one so that people can text to Check-in on Sundays from 7:30 a.m. to 1:00 p.m..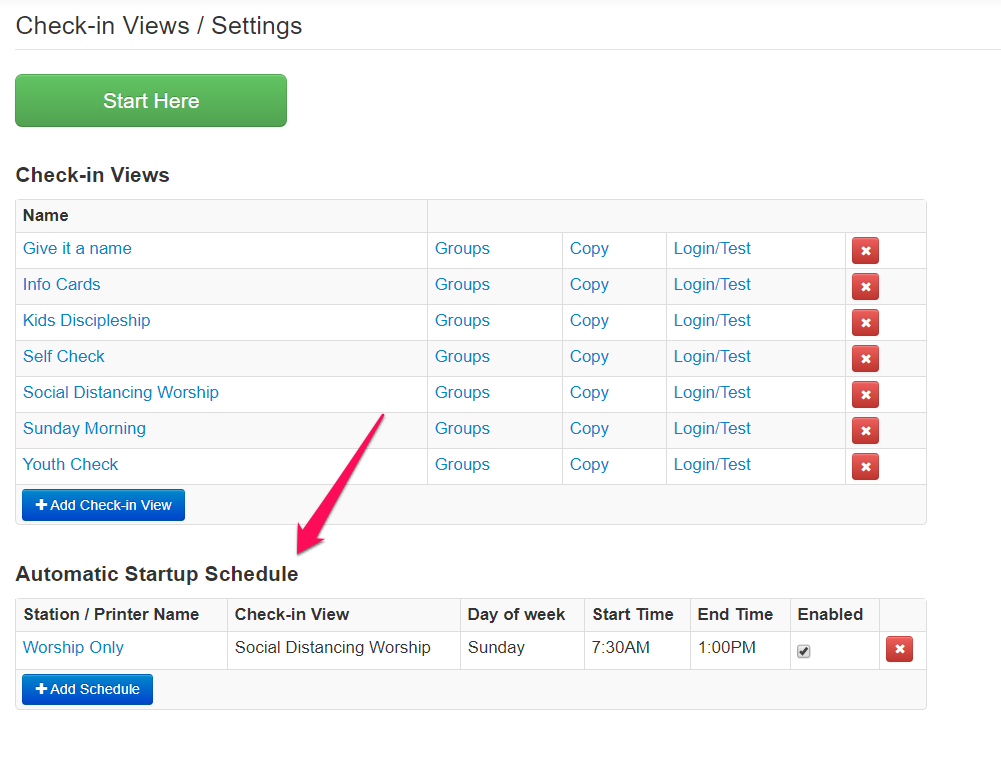 The Reason
Think about what's happening when people are watching live-stream or video at home.
They are live-streaming on their TV. The focus is not on their computer or phone for which much of the live-streaming technology was built.
As a result, their phone is their second screen. So, why not make it function like a worship bulletin?
Why not use Text-to-Church the same way you use your bulletin? By using All Check, you can ask people to text the word CHECK to:
Encourage staff that you are watching. (Attendance)
Receive a digital bulletin that includes links to today's songs, sermon outline, group questions, follow-up activities and an opportunity to share prayer requests.
Here's the Knowledge Base article on how to set up All Check.
Important: During this Covid 19 social distancing time, be sure to create a Check-in view that just includes your worship groups. These are the only groups available to check into at this time. See the "Social Distancing Worship" check-in view above.
Here are Five Ways All Check will benefit you as church staff and pastors:
You capture people's attendance. Those who respond are checking themselves and their family into your worship service. You can finally see by name the people who are actually watching. Because of All Check step 7, People not in the database will register to add themselves into an Adult guest group. In this way, you are getting their information to follow-up with them. Regulars are recognized by their phone number when they log in and taken directly to the page to check-in their family.
Guest follow-up can start immediately. Guests will be recognized when they fill out the guest registration form. This puts them into your Adult Guest Attendance group that can be used to start a workflow. Here's a Knowledge Base article on how to create a workflow for first time guests.
They land on your digital bulletin. After they register they are taken to a page that you've created to replicate your bulletin. All Check step 9 shows you how and where to set this up. This is typically a digital bulletin page on your website that is updated each week. It might feature links to the songs used in that day's worship, an outline of the message, a link to the Bible text, and links to other activities or resources.
They share needs and prayer requests. Your digital bulletin should feature a link to a connection card that exactly mirrors the one you normally use. Here's a knowledge base article on how to create a Digital Connection Card and automate follow-up. Add the link for this registration in a prominent place on your digital bulletin. Draw people's attention to it. When they click the link, the system still knows it's them and fills out their contact information automatically. They just select their responses to the form including prayer needs or other notes.
They can give. Of course they can text to give, but you can also add a link on your digital bulletin that allows them to give. That link is under Settings > Giving > Online Giving.
We hope this terrible time of social distancing to avoid the Covid 19 virus passes quickly. But, in the midst of it there will be plenty of opportunities to reach new people and care for others. It's our prayer that this upgrade will help you do that well.