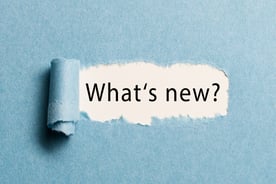 We got some great ideas from the Roundtable we did for 3 months earlier this year. Many of these upgrades came from that as well as great ideas from our clients.
Our relationship with you guys is the secret sauce to Churchteams truly being a software that we are building together! Here are 10 upgrades in the past 2 months.
---
Add people back to group from group membership history.
We added an option to add a person back to a group from the group membership history page. It will remove the end date from the selected membership date range and it will set the person to be an active group member. In the event that the person was already an active group member, this will do nothing to that person's record. To see it go to a group > blue Reports button > Membership History. Here's what you see after selecting at least one person.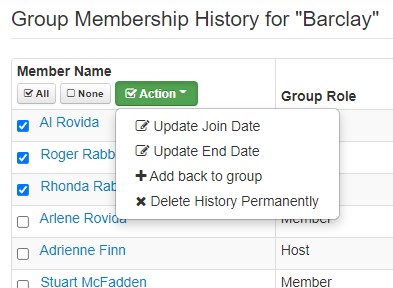 ---
Other group membership history upgrades.
We added an update to the Group Membership History page that makes it more interactive.
Click column header to sort by any column.

See multiple dates when people joined, left and regjoined the group.

Note: the email buttons on the bottom of the page with certain groups do NOT connect to the selected/checked people. You can only email ALL members.

Show # of spots left in Groupfinder.
We enhanced the Custom Groupfinder section of the website integration page to include the number of spots left.

Customize this by going to Communicate (black navigation bar) > Website Integration > Section 2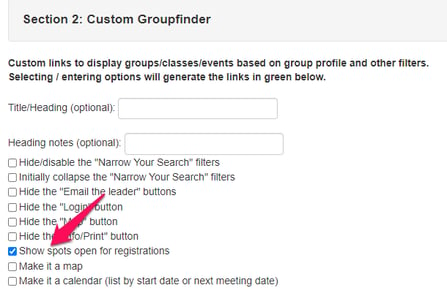 ---
Updates to family directory listing
. We changed the look and feel of the family directory listing by moving the individual names above the address and putting the names in bold. This makes the directory a little more readable.

---
NED Updates.
Our email editor,
Bee, fixed or enhanced a couple things that we have had some struggle with! The first one is there were certain cases where the floating text toolbar would pop over the content such that you couldn't get to where you wanted with the cursor (or see it!). Now they have added a way to collapse the toolbar. Expand or collapse it using the icon in the upper right hand corner.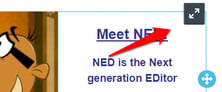 They improved how the editor receives pasted text so that at least Bold and Italics come through. It still will not retain complex formatting from a Word document. Creating your text in the editor itself is still a best practice.
Reports - Member listing summary row now has percentages. We've had counts for column data in the bottom row for awhile, but we recently added percentages as well.

Link to a secondary registration,
Require the secondary registration, and
Leave the completion message blank.
This gives you the flexibilty to get rid of the popup between primary and secondary registrations if desired.

---
Second search option for Check-in. There is now an option to use two search fields for check-in. To set this up go to E1 in the check-in view. This is useful for churches wanting to offer but not require the use of barcode scanning. Families can put in their mobile number, for instance, if their keytag is not immediately handy.

---
Member attribute Age Category in now customizable. We changed Age Categories from a fixed attribute to one you can edit or even delete. Some churches found this useful, but over time with the addition of other attributes it became redundant and more confusing than helpful. In the process of making this change slight changes were made to:
Member Info page.

Sort order to pick from in Report Types.

Change from fixed to custom attritube in Report Filters.
If you were using Age Categories, the attribute is still there. It is now just located under Custom attributes.
---
Reports - Member listing includes date created and last updated.
We added Date Created and Date Last Updated as output options for report typess. Date Created will show date & time just like on the Member Profile page. Last Updated will just show the date.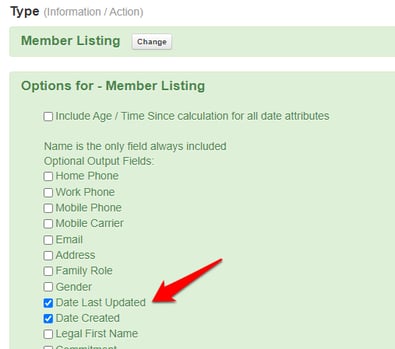 For any of you who made it this far in this rather long, technical blog post, a little secret ...
Our next major feature - SERVICE VOLUNTEERS - will be released either next week or the week after. We'll do briefings to help you learn it and can't wait for you to see the hard work our team has done to make this an exceptional upgrade a reality.