Do you need a directory look up with less information/access than a full member profile - maybe even for some staff?

Earlier this week we released a new searchable directory. Here's what it looks like:

Type in first then last name and it takes you to the person's page that also shows their family.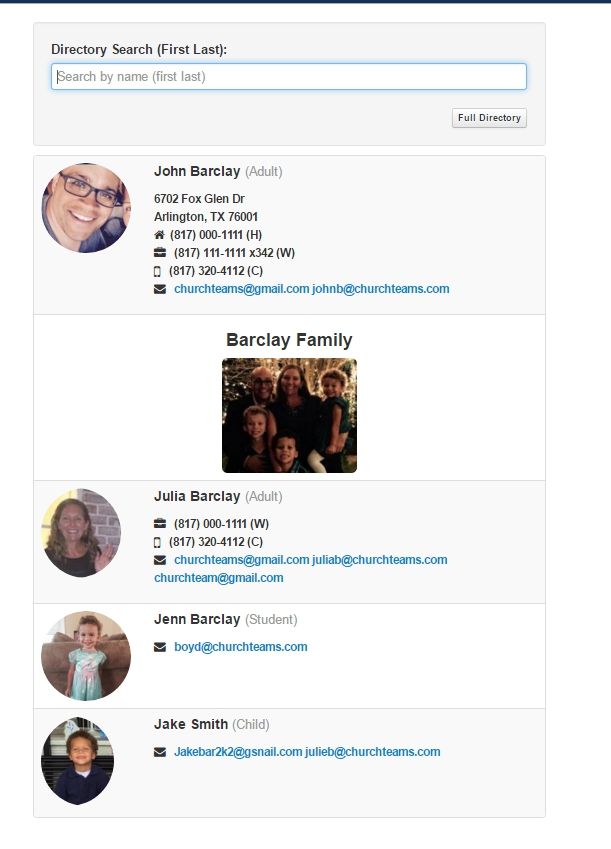 Check it out for your church by clicking Settings/Security/Accessibility. In the 3rd section, there are 3 directory search options (Print, Search, Both). I'd choose both. You can also choose what info you want in the directory.
Then get the link under Settings/Wesbsite Integration. Section 3 has the membership directory link that you can put on your website or email for people to save on their browser or to their home screen. It works with any of the passwords, but use the member level password for most people.
Customize which church member types are included in the directory under settings / members / church member types.
Other Upgrades:
Texts sent through Churchteams are now broken into 156 character breaks. This will help longer texts get through easier with some carriers.
Volunteer scheduling. Only volunteers who accept an invitation to serve will get the reminders. The system will automatically attend these volunteers 2 hours after the event starts. This gives you an automated way to track serving engagement.
Event registration. You can now set up default family roles and church member types on the registration settings page. This is especially helpful for registrations that involve children.

Giving data uploads. We added a few features to make uploading data from third party contribution applications easier. (Note: our integrated solution automatically posts donations for you).
Coming soon are more significant upgrades to email.