The development team has been busy responding to requests and upgrading the system. This first one has been requested a lot and will speed up check-in for events where pre-registration was required and you want to have everything ready as soon as people arrive. No electronic check-in required.
Pre-print check-in tags and security labels. As churches get ready for VBS and other summer events, we released an upgrade that will allow you to pre-print name tags using your normal check-in label printers.
Start by setting up a check-in view with the settings for groups and labels that you need. Next, use any check-in station that has a label printer attached. Login and choose the check-in view you created. Then click the small Reports icon in the lower right and enter the check-in level password. The new button to pre-print lables is on the far right.

When you click the Pre-print Labels button a page showing all of the groups for the check-in view shows up. Check the boxes for the groups/classes you want to pre-print labels for and click the green Print Labels button.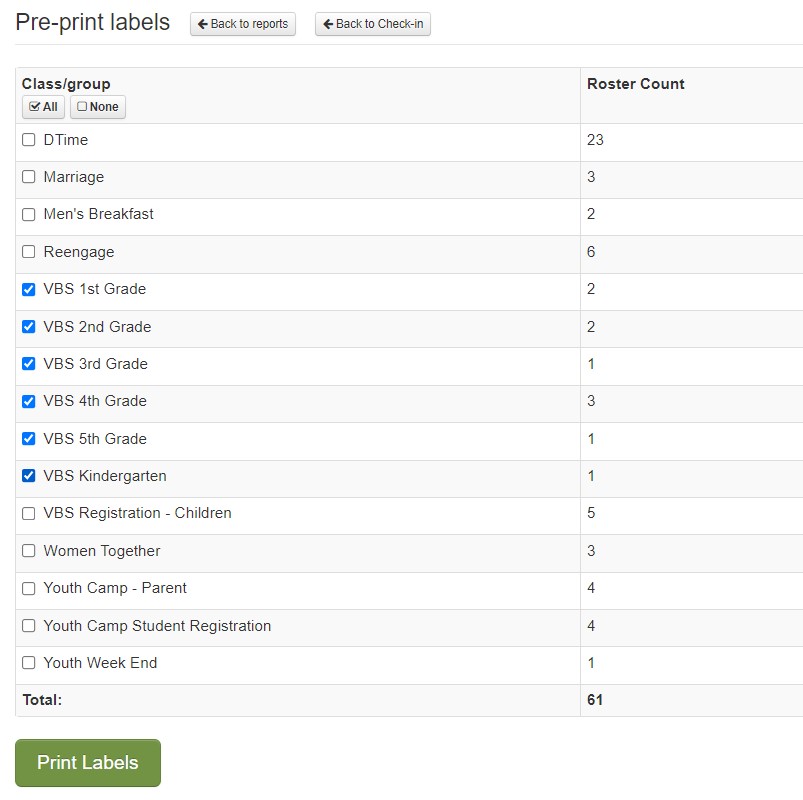 Disable Text-to-Chat. A few churches wanted to turn off the Text-to-Chat feature we released back in February to give them time to figure out how they want to use it. You can now do this by going to Communicate > Text > Settings and selecting the dropdown option to Disable Text-to-Chat.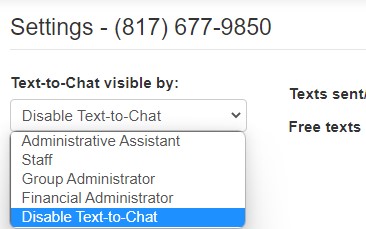 When disabled the system will revert back to the old response so that people know they are not being ignored.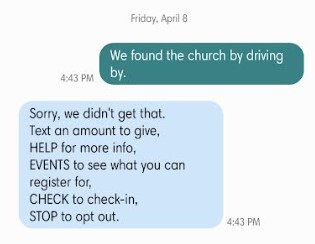 Two word keywords for Text-to-Church. For some keywords like KIDCITY or GOLFLEAGUE people would text (or their phone would autocorrect) KID CITY or GOLF LEAGUE as two words. To help with these, we added code for two word texts that checks for the combination of those words as well as for a registration, link, or designation/fund. If found the system returns the expected link.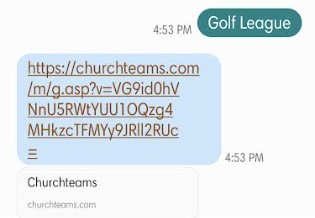 New email editor options. We added three new content options to the email editor. They are Paragraph, List, and Spacer.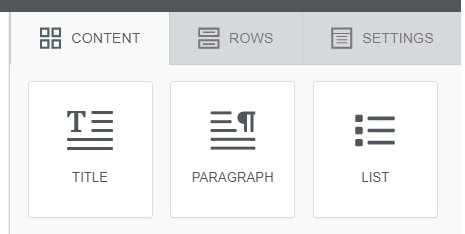 Paragraph replaces the old "Text" content choice and has some subtle improvements associated with it. The list option is self-explanatory. Finally, we added a new "Spacer" option to make it easier to add white space to an email or email template.

Reports: Filter by Next Month dates. We have had children's ministries ask about creating a workflow to email or text parents the month before their pre-schooler's birthday to prepare them for a classroom change. To help with this and other scenarios like background checks we added a "Next Month" option to the Save Report Date/Calculation options.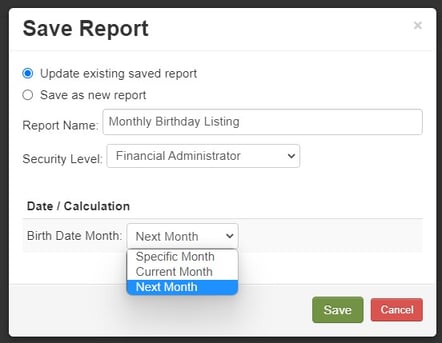 To put this Workflow together:
Create and save the email or text template with instructions to parents.
Create a one step workflow to send out this email or text. (No group enrollment required.)
Reports > Communication > Add People to Workflow. Select the workflow.
Filters > Members > Custom Member Attributes. Select a Birthdate month and Age range (like 0-3).
Filters > Members > Family/Household Attributes > Select Related Family Members. Choose Adults. (These 2 steps select parents of 0-3 year olds based on a specific birth month.)
Save the Report. Choose the Next Month option above.
Schedule the report to run once a month for the next month.
Include "Fees Covered" on Financial Reports. We upgraded the Contribution Detail Report and the Contribution Export with an option to check a box to include the Fees Covered.