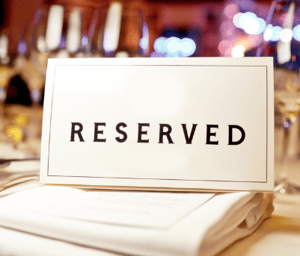 After months of social-distancing and live-streaming-only worship, it is exciting to hear the conversations about safely re-opening. Two weeks ago we started getting calls about using our registration system for reservations to help manage re-opening at 25% to start.
You could do it, but the original (still available) approach required entering everyone's name. Knowing this upgrade would be really helpful during this season we put aside a few things and focused last week on making the upgrade. We released it last Thursday and did a short email to clients on Friday.
The Knowledge Base article,
"
How do I set up reservations for groups of people"
, has the details. The bottom line is that we added an option to the dropdown responses for a registration attribute to allow a registrant to select the number of additional people they are bringing. Basically, like an online reservation at a restaurant, I register my information and then how many are in my party. It looks like this.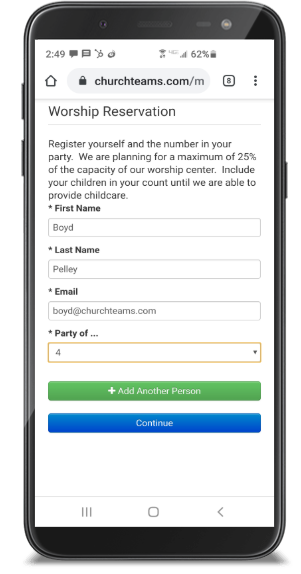 If you are using this feature
, be sure you read this Knowledge Base article on
"What is the best way to manage recurring events"
. You don't want to create a new registration each week, this article will help you learn how to re-use the registration. By the way, this is a really helpful practice for less frequent but recurring events like New Member's class and Youth Camp registrations.
If you are looking for a way to take reservations
, give Churchteams a try. Even if you are happy with another software that doesn't offer this functionality, why not do a
30 day free trial
? Just follow the instructions in this blog to set up your reservation system for a few weeks. By the time your free trial is over, hopefully you will be fully re-opened. And we would have had the opportunity to have played a little part in it.
Serving the Lord by serving you.