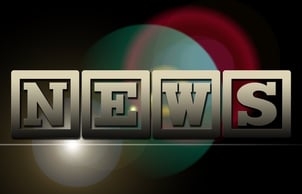 We like to ask new clients what convinced them to move from their previous church management system to Churchteams. There are several distinctives, but always at the top is
Text-to-Church
.
For a number of months we recognized that there was one thing missing. It wasn't really a deal-breaker, just a really helpful potential add - notifications of new text chats. It's exciting to announce that this feature is the headline for this newest version of release notes.
Here is an outline of the topic areas and specific upgrades. Read them all, or click on one to skip down to learn more.
A common request since we rolled out Text-to-Chat was for the system to notify staff when a new one is received. The system now looks for new chats every 10 minutes and texts notifications to staff if something new has been received. By default that functionality is NOT enbabled.
There are two ways to opt into getting notifications. The first one is to go into the Text-to-Chat area and check the box to receive notifications yourself.

The second requires Group or Financial Admin access. Go to Settings > Users and check the box for each staff who wants/needs to receive text notifications of incoming texts / chats. Turn these off or on at different times depending on staff responsibilities to respond.

The notification text will look similar to this. When you click the link you will be taken to the login page and then directly to the chat area.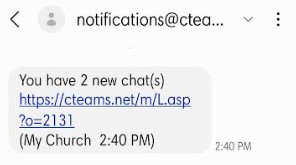 2. Text:
Volunteer (ME) page minor changes
Texting the word ME to Text-to-Church gives people access to their information in the database. For quicker access groups that someone leads are now sorted above the webpage links.
Secondly, when a leader clicks on their group there is a new Volunteer option that takes them directly to the volunteer schedule for their serving team.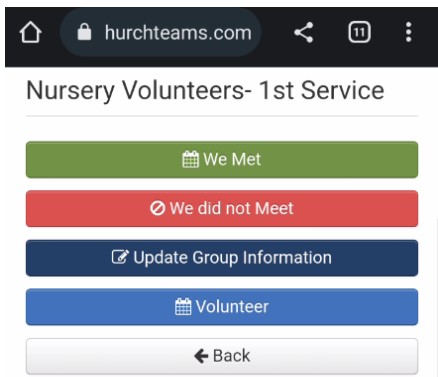 Leaders of serving groups who do not wish to get all the accept/decline email notifications from their team members can now opt out of them. Make sure they are set up with the Group Role, Leader, in the group. Then, click on their name to go into their profile and go down to the Upcoming Volunteer Schedule section and click View All.

At the bottom of the page the last check box allows you to opt that person out of receiving accept/decline notifications for the groups they lead.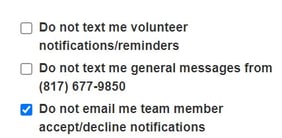 The Leader themselves can see this option when they are in Text-to-ME or responding to any volunteer request link.
4. Volunteers: Reminder text messages now link directly to schedule
Reminder text messages sent to volunteers are now followed by a text that has a link to review their schedule. This is now the easiest way for volunteers to see their schedule. They will get this text each time they have Accepted a position and are reminded about serving.
5. Volunteers: Texts to scheduled team members who've not responded now link to schedule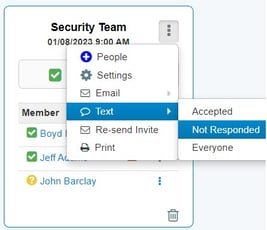 Similar to the upgrade above, now when you send a text to Volunteers who have Not Responded, the message is followed by a link to the volunteer schedule. It can also be sent at the higher level to multiple teams.
This is especially helpful for staff who've set up a block of schedules for weeks or months at a time and are reviewing the upcoming week's schedule. They will be able to click the + People link to add other team members and/or roles, then send them a text. This will be followed (automatically) by another text with the link to see and respond to their schedule.
Both church and nonprofit clients have asked if we could add street address, City/State/Zip back onto the online giving form to enable them to reply by mail. We added this option but it is off by default. If you want to enable it, go to
Giving / Settings / Online Giving and then click the Online Giving Options / Text To Church button. The new option is the checkbox for "Allow mailing address on giving."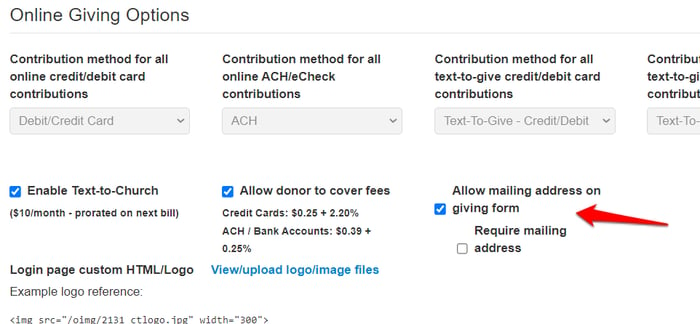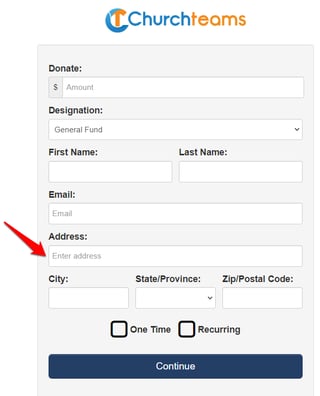 Here is the look of the giving page when this option is checked and saved.
It has our automatic address lookup / completion that will then populate the City, State, and Zip code.
Change notification emails WILL be sent if an address ends up changing a record.
Note: we only update a record if a successful donation is made.
You have been able to refund Credit and Debit card donations for a long time, but in the last couple of months with some changes made by our processor, you can now refund ACH donations yourself. From the Member Profile page > More Info > Contributions.

8. Giving: Default contributions set to start of previous year
We changed the default individual contributions date range to start January 1 of the previous year. (Member profile > More Info > Contributions) This allows financial admins to quickly see prior and current year to date giving all at once, which will be especially helpful early in the calendar year. The options to see prior and year to date separately were not changed.