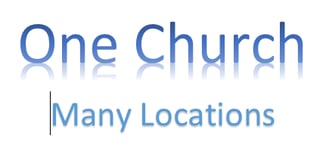 In 2014, our friends at Leadership Network found that over 8,000 churches in the U.S. were multisite. And, that was 3 years ago! In a blog post last year, Portable Church points out that churches of all sizes are going multisite. This isn't a fad, it's now a normal part of ministry. In fact I go to a campus of a very large, multisite church ... and love it. So, what must church software be able to do to serve this growing movement? Here are six things I believe are essential.
1. Church Software must be cloud-based. Churches have been transitioning from locally hosted software solutions and even locally accessed solutions the last couple of decades. With multisite, these are no longer reasonable options. With staff officing virtually and needing data on the go, the cloud is now the only option.
2. Church Software must be mobile. Beyond the mobile needs for staff access, church software needs to be able to accommodate ministry in rented facilities. According to the Portable Church blog, 52% of multisite venues are rented. In places like theaters and schools, this means tools like secure check-in for kids must be mobile. Upgrades in our software the past 2 years allow greeters to use their mobile device to check-in people on the go. By the time they get to the label printer, their tags are ready for them. No more lines. If you don't have access to wi-fi at your rental facility, simply use your phone's mobile hotspot to drive the wi-fi label printer.
3. Church Software must be complex. Multisite adds levels to the church organization that require more complex structuring of data. You need to be able to report on activities on different campuses as well as at all campuses. Perhaps even subsets of venues. You need to be able to communicate to silo venues. But you also need to be able to segment people and groups/teams across sites. Our underlying data structure was built around a groups construct designed for unlimited scalability and complexity.
4. Church Software must be simple. Decentralization creates new opportunities for reaching people and new needs for leadership development. The use of technology shouldn't be a major training objective for those who are part of or serve in ministry. Everyone who needs to update their information, respond to an invitation or reminder to serve, or report on their group; should be able to do it with one click from the email or text sent to invite or remind them. To register for anything shouldn't require creating an account or remembering yet another password. We designed Churchteams to require only those overseeing ministry areas to have to login. And even then, we've made it easy for them to manage their people and teams.
5. Church Software must include online and text giving. It costs money to buy or rent new equipment and facilities much less the cost of additional staff. In today's culture, many people don't carry cash or checkbooks to put something in a plate or box. Instead, you must give them a way to give online or by texting. These giving methods are here to stay. In the past decade church management systems have integrated innovations like check-in, volunteer management, groups management and email/text marketing. The same will happen with online and text giving because everyone wants all their data in one place.
6. Church software must make registration easy. Online has become one of the sites for many multisite churches. A majority live stream their services. To accomodate these, multisite churches are going to have to have a robust, yet easy to use registration system. This is just as true for venue attenders who prefer interacting through their phone. A simple form that captures whatever information and payment is needed is important. We even made it so they don't have to create an account or login. The software recognizes them based on their information. Coming this summer: text to register! All people will have to do is text a keyword like "member" to register for the new member's class. The system will recognize them by their phone number.
We live in a time period of amazing technological innovation. Innovations like these we've looked at are serving the entrepreneurial spirt of pastors exploring better ways to bring hope to the world. We continue to work hard to play our role in that pursuit. It's exciting to see church management software continue to grow. Our maturity is helping leaders consolidate information. This is, however, only the next step is something much bigger and even more helpful.