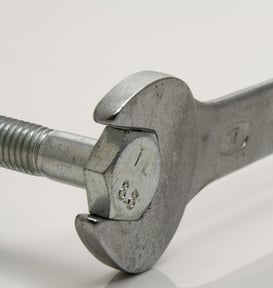 Our team has been busy the last few months responding to customer ideas that make the software just a little always-better.
These are listed in order of their release with the most current one first. All of these were released in June, July, and August.
It just happens this time that my favorite one, the update that I think may be most useful, is #1. It was released a little over a week ago. I think you'll love how it improves your website registration experience.
1. Use pop-ups for registration from your website.
Because of browser restrictions related to our registration embed code (didn't work on Safari or Chrome), we removed that from the registration settings page and replaced it with Popup window code like we already offer for online giving. Here's an example of what it looks like when I click on a web page link to register for the Marriage Seminar on a computer. It takes up the full screen on mobile.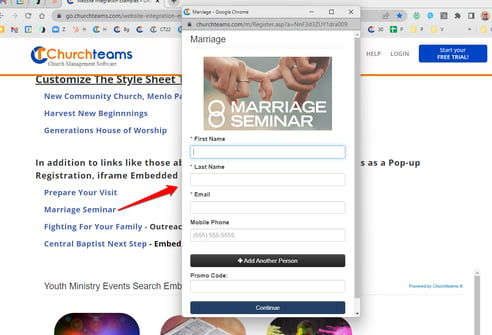 Find this code by going to the event (group) > Registration > Settings.
2. Use text message templates with free texting.
Previous to this release templates for texts were only available through Text-to-Church (paid texting). This release makes text templates available for use at the leader level of access. One church wanted their security team leader to be able to be able to text ME or login to their account and quickly access emergency templates to text to their team. Merge tags like are automatically removed since those don't work with Free Texting.
3. Guardrails for group auto-registration from forms.
We're always looking for ways to keep things from going off track. These solutions help avoid unintended registration mistakes related to the powerful auto-register for groups feature.
Inactive groups are now flagged on the Registration Attributes page (Groups > Settings > Registration Attributes).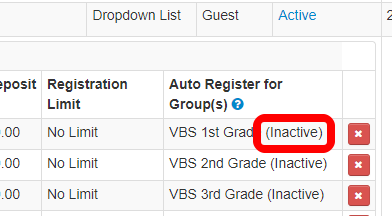 Registration Settings page identifies which form attributes are being used to auto-register respondents to other groups.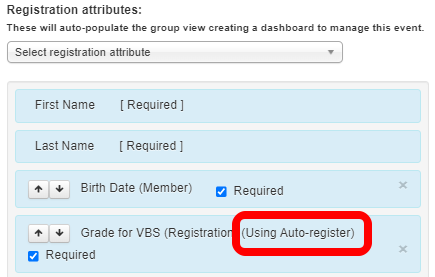 4. Button and page title changes in service volunteers.
If you use Service Volunteers you may have noticed some slight wording changes for buttons and page titles. These are intended to make the volunteer scheduling process more clear and easier to navigate. Here are the changes.

Navigation back to Service Volunteers or Group Info are from the same page and allow you to navigate back the same route you came to the page whether from the Service Volunteers feature or from the Volunteers button on the team's group page.
5. Print option added to Service volunteer schedule.
You can now print a report of all the teams and individuals volunteering for a service right from the Volunteer Schedule page. This was available previously for a single team and from reports, but this gives you much easier access.

6. Check-in Adults and College roles with other families.
Previously only those with children and youth household roles had the "Allow check-in" option available from the "Related to" area of a member profile. With the expansion of check-in to include everyone in the family and to accomodate special needs and unique relationships we removed this restriction.
If you see an adult or college student on a family check-in that shouldn't be there, go to their profile and uncheck the "Allow check-in" option.

7. Incremental search now includes legal first name
In addition to first and last names (and groups), legal names are now included in the incremental search bar. This should make finding people's profile just a little easier.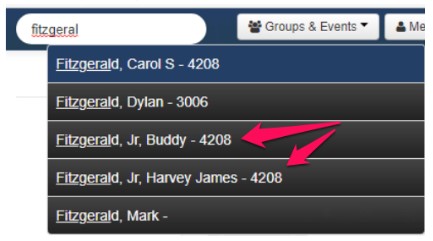 8. Donor portal option shows giving for entire household.
Donors can now view and print statements that include all family members when they login to their personal online giving page.

9. Filter reports for families with or without children.
To help with building reports based on family make-up and roles, we added a new filter for families with and without children (red).
This works nicely with the Member List by Household report option (yellow) that groups families together with any output options you need.