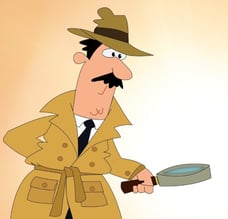 So far we've looked at how to use church software to recruit and interview potential volunteers. Once you've determined that someone is a good fit for ministry, it is time to verify your assumptions by doing a background check.
Background checks are pretty normal for churches and I've observed how churches have gone from doing them just for children's ministry to doing them for almost all volunteers. It's a great idea just to be sure you do your due diligence to make sure your volunteers are safe.
There are several companies that do background checks and there is a whole variety of levels of background checks that can be done. But, most of them have a standard suggestion that they offer as a best practice. For a number of years now prices for these have hovered around the $10 each mark.
Most of these companies offer integrations with church management software which simplifies the process. Churchteams integrates with Protect My Ministry, but you can use other systems as well. Here are the specifics for both and a bonus section on taking the extra step of getting and interviewing references.
Fully integrated (Protect My Ministry). If you go to Settings > Account Info and scroll to the bottom of the page, you'll see the link to Protect My Ministry. You need to set up an account with them and then tell them you would like to integrate with your Churchteams account.

Once your account is set up with them all you have to do to request and later view a person's background check is go to their Member profile and click the button. It's really that easy. And, by the way, you control what level of access sees these by clicking on the Settings button pictured above.

You can also link a background check request form to your volunteer registration forms by going to your volunteer registration group > Registration > Settings and selecting that option. As soon as the registrant completes the volunteer form, the system will redirect them to the background check form.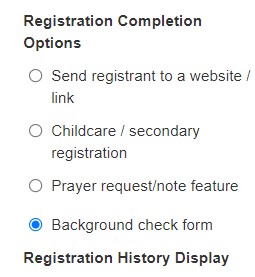 You will be able to set up different feature options with Protect My Ministry including letting them notify you of volunteers with expired background checks.
Manual Integration. If you use another background check company, you can still track that information in Churchteams. It's only slightly more involved. After you set up the service, here are the steps to follow to integrate with us.
Create custom member attributes for the information you want to keep in Churchteams (Members > Settings > Attributes). Here are some examples.

The check field is a dropdown attribute and the document field is a hyperlink that can be used to link directly to the background check that you have stored elsewhere online.

From your potential volunteers group, send an email with a link to fill out the background check form.
You can also add this link as a redirect to the volunteer form here (go to the group > Registration > Settings to find this):
When you get the report back you will need to manually enter that data for the volunteer in the attribute fields you created for that purpose.
With this data you will have the ability to run custom reports to see and manage people's background check information.
References. There are some churches that, in addition to the background check, ask potential volunteers for references. It is preferable if these are in-house references that staff can interact with to verify that a potential volunteer is safe.
Here are some ideas and best practices to manage volunteer references.
Create custom member attributes (Members > Settings > Attributes) for each of the references you want. These are generally: a) an open text field that asks for name, phone and email; b) a date received; and c) a hyperlink field if you have a reference form that you want to link.

Add these attributes to your potential volunteer registration form.

Add these attributes to the group view so that you can manage the responses from within the group. (In this case, the group becomes your spreadsheet tracking the data.)

Email, text or call the references.

Manually update the attributes based on responses.

Most of your background checks will probably come back with no issues. But, if you discover something concerning, don't shy away from it. If you need help with the follow up conversation from a pastor, ask for it. This could end up being a great opportunity to love and disciple the potential volunteer even if you have to redirect them to another serving area.
Next up, how to use the software to help with training the volunteers you've recruited, interviewed and verified.