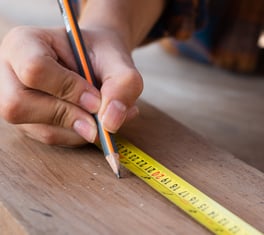 Does the vision of your church revolve around making disciples? If so, you may have a clear definition of what one looks like; but what about a way to measure how well you are getting the job done?
If you don't have an assessment process, or what you do have feels cumbersome, you need to take a look at Growthfinder. It is a tool within Churchteams that gives you a discipleship template to use as is, or you can customize it to fit your church's definition of a disciple. We've had it for a long time, but we did some upgrades recently.
A customizable template
Here is a high level explanation of how the assessment works so that you will understand what's happening as you take it. Note the header in this template screen shot: Objectives with resources, Results with resources, and Questions.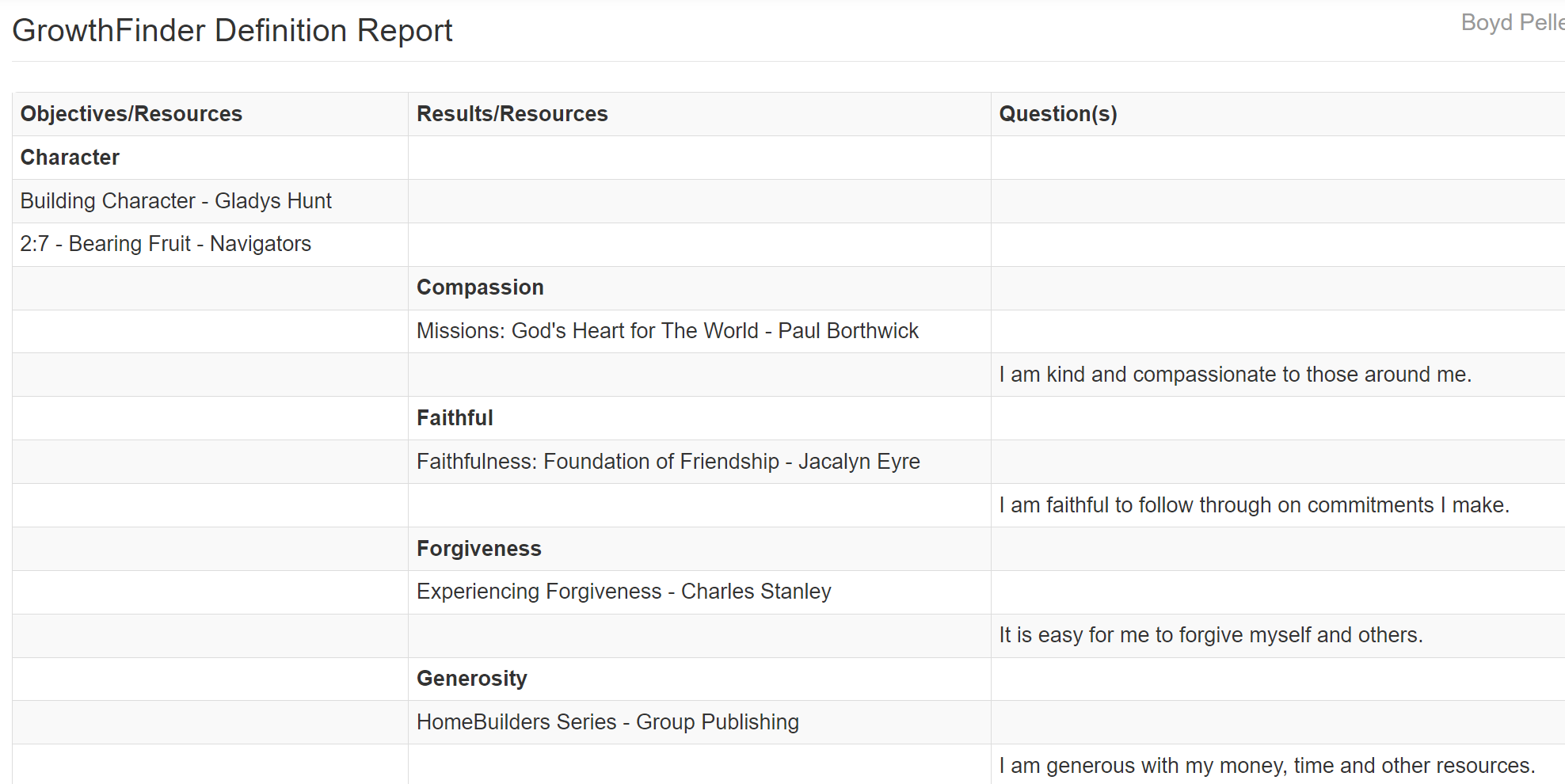 Objectives: Most churches have a few objectives like "Belong, Grow, Serve," or "Worship, Fellowship, Discipleship, Ministry, Evangelism." The default objectives in Churchteams are "Character, Knowledge, Perspective, Skills." You can use these or customize them to fit your church. Character is illustrated above.
Results: Each objective is made up of key results that flesh them out. In the above illustration; compassion, faithful, forgiveness and generosity are listed as qualities defining the character of a disciple.
Questions: Each of these results has a question associated with it. "I am kind and compassionate to those around me" relates to the compassion result above. Responses are: Never (1-2), Seldom (3-4), Occasionally (5-6), Regularly (7-8), and Always (9-10)
Resources: Finally, you can link resources like sermons, books, Bible studies, and podcasts to each of the overall objectives and to each of the key results. Individuals and small groups use these resources to help them grow in these areas.
Three recent upgrades
You will need to enable Growthfinder to see these upgrades in your account.
1. Add to registration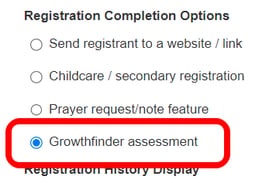 Behind the scenes, we added an option to add the assessment to a registration under completion options on the settings page.
Previously, there were three ways to send personalized links through email to take the assessment:
Individually. Member Profile page > Invite to Update button.
Through a Group. Group Profile page > Communicate > Evite to Growthfinder.
Send a Report. Reports > New > Communicate > Invite to take Growthfinder
2. Printable version. Now you can print a copy to hand out to people. You will have to manually enter the results for those who turn these back in. Find this under Groups & Events > Settings > Growthfinder.
3. New layout. The old layout was more horizontal. This one is all vertical. It looks much nicer on every device. Check it out on your phone!
The registration upgrade provides some interesting new possibilities for getting people to take the assessment at their convenience. Here are a few ideas on how to use your Growthfinder Assessment registration link:
Put it on your Website or Social.
Create a QR code for handouts and signs.
Add a Text-to-Church keyword.
Add it as a Resource in the Member App.
One of our distinctives in the church management software market is the vision we had for disciple-making and team-building before a single line of code was written. It's not an add-on for us. It's our "why."
We've done a lot of work in recent years to perfect systems for volunteers, check-in, process management, communication, and more. But, the drive behind all of our development is this desire to play our part in helping churches fulfill the Great Commission to go and make disciples. Thanks for allowing us to play a small part in your process to do that.