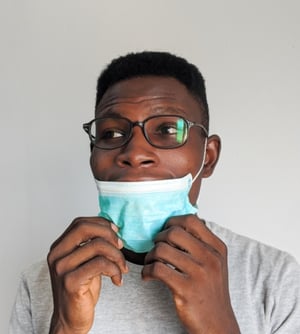 The ways churches are meeting at this point in the pandemic are as diverse as the church itself. I know great churches that haven't met live on Sundays since March of last year. And I know great churches that have been meeting live since July and now don't even require masks or social distance. This is the beauty of God's design and the difference in the communities our churches serve.
The same diversity exists within each church as well. There are people who don't want to wear masks, people who always wear masks, and people who aren't going to gather again in a large group until they have a shot or Covid is gone.
You can use the same systems you've always used to communicate with and follow-up the live crowd whether they are masked or unmasked. But what about that last percentage of folks? The faithful members who have been missing live large gatherings for almost a year?
Here are some ideas on how to use Churchteams to help your church stay on mission making disciples of your online only crowd.
Identify the people who are online only. If they are members or regular attenders, they will love to let you know they are watching online. At very minimum, give them the opportunity to self-identify. In Churchteams this means creating an "Online Only" group and associating a simple registration form to it. Put the link on your website. Let them join by text-to-church. Or even just include "Online only" as an option on your digital connection card. As people register, you are identifying a mid-size community of people with a unique perspective and needs.
Give them opportunity to connect online. The low hanging fruit on this for many churches is the chat box associated with their live-stream service, Youtube live or Facebook live. But, why not provide opportunities for Zoom prayer, Zoom small groups, or Zoom hangouts to discuss the sermon with pastor? You have their information, so email and text them with encouragement and guidelines on using the chat and invitations to pray, study and fellowship via Zoom or any other preferred group communication service.
Give them opportunity to serve online. Ask a few people who identify as online only to own the live sermon chat. Encourage them to start the chat by chatting with each other, asking questions and inviting others to join. It might be a little tough for just one person to own this responsibility, but a group can set it up to succeed. Give others access to invite your mid-size community to join them as they facilitate a time of prayer, Bible study, and fellowship via their own online channels. They can be responsible to send out the emails and texts with the appropriate links in them. Set up these people as leaders in their group in Churchteams and all they have to do to access the group is text ME using Text-to-Church and click on the group they want to engage. Or, they can save the online giving & activity link (Communicate > Website Integration > Member Login link) on their computer to login anytime and access their group.
Give them opportunity to give online. Surely, you 've already done this. But if you haven't already brought giving under the umbrella of Churchteams, you'll want to do that so that people can give via the same Text-to-Church number they do everything else.
Give them opportunity to grow online. I see websites all the time with links to the equipping webinars and training resources of their choice. Why not take this up a notch by creating a workflow and encouraging your online community to register to take these equipping webinars, or other training series. Then create the workflow to email and/or text them a reminder with a link in it each week, say on Wednesdays. Once they're done, make the last workflow action an email or text with a link to register for the "Equipping Series Completion" group signifying their completion of the series. Take this one notch further and associate a workflow with this "Completion" group that automatically updates a "Disciple.Net" multiple choice dropdown member attribute. Then pin this attribute just below the person's name to quickly see where they are.

Give them opportunity to share online. Only a small percentage of your online only folks are truly hibernating. Most of them take walks in their community, email, text, FB message, Facetime, interact on social, etc.. One church I've been talking to is asking all their folks to idenfity one or two people they want to invite to church. We're still working on the details, but the idea is to have them talk with their friend through normal channels. When they've offered the invitation and okayed it with their friend, they enroll them into a Churchteams "Friends Invited" group. The registration form includes their friend's name, email, phone and an "Invited By" member attribute where the inviter puts their name. This puts the friend into a specially designed workflow to give them helpful resources and occasional invitations over a 4-6 month period of time. When a new person is entered, the group leader / campaign manager creates a note for the new person and assigns follow up to the "Invited By" person. Then the inviter can report on their personal interactions using notes with ongoing follow up assignments.
Pretty much everyone I've talked to has affirmed that church will not be the same after Covid. Many of them have been developing an online campus or strategy so that they can take advantage of the 2020 experience. These six ideas can help with that.
Finally, you might remember prior to Covid the research that told us the average church attender only attends 1.4 times per month. If that is the case and that statistic continues even after Covid is gone, one of the blessings of 2020 might be the implementation of a new digital strategy that helps us expand our channels for making disciples and by so doing engages people well beyond simply 1.4 visits per month.
We've been preparing for this for 20 years and would love to help you seize the day.