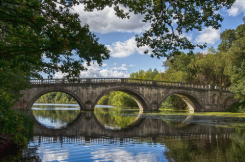 20 years ago I was at a place in ministry where I wanted out. It was not what I expected it to be when I started working for a church full time 9 years earlier. Maybe you've been there. If so you likely know that hardship like this is often the path God uses to mature us and refine our calling.
I remember understanding cloud-based computing for the first time that year (1999). Most people were still on dial-up Internet service, but I saw the potential and shared the idea of building cloud-based software for making disciples and building teams with Mark. He was a corporate software architect and friend who on the side had built a MS Access database for our church years earlier. He loved the idea of using his skills to serve the body of Christ and we agreed to partner to make this dream a reality.
Working nights and weekends we talked and Mark wrote code. By fall 2000 I was using the earliest version in our church and began telling others. Word spread. A few years later we were offering the software as part of Life Together's coaching service to some of the most influential small group churches in the country. We learned much and together with these leaders continued sharpening the software.
By 2008 the software had grown to a point that we could afford for me to go full time and a couple of years later for Mark to as well. This was God's working to allow us greater focus on building the company and the software. With the extra focus we made the hard decision to take what we had learned and apply it to building out all the other features of a full church management system.
Here are some guiding principles we had learned as a small group software that we have applied to being a full Church Management Solution. We felt like these would be the way to best help churches and from a business standpoint make us distinctive.
Most churches will want ALL their DATA in one place. Subscribing and linking to multiple applications with different looks and navigation would eventually become a nightmare. Long term we had to become a full solution or else risk going out of business as others built out similar groups solutions. The hardest part has been building "best of class" level features into the application.
GROUPS as the foundational organizational element is THE simplest way to manage a church. We had pioneered small group software and knew the intricacies of how to build a Church Management Software around this idea. It was intrinsic to our thinking, culture and software architecture.
Accessing the database through APPLICATIONS people already KNOW is the best way to get them to use it. We had learned how to use push email notifications with deep links (one click access) to get 100% of group leaders to respond each week. We could take the same idea to get people to do things like volunteer, check-in, update their information and more. This was a guiding principle we also applied to texting. And, it was the key principle behind our choice to build out Text-to-ChurchTM rather than building Apps for Google and Apple.
We started out as an innovator, building software no one had even heard of before. When we began the transition we had a lot of ground to make up to build the other features to the level expected in the market already. And doing it in a way that we could keep improving in each feature area. In 2017 with the release of Text-To-ChurchTM we had come full circle and were back in the innovation zone. This has brought us to a great place to help build the future of Church Management Software.
James 1:2-4 says, "Consider it pure joy, my brothers and sisters, whenever you face trials of many kinds, because you know that the testing of your faith produces perseverance. Let perseverance finish its work so that you may be mature and complete, not lacking anything."
Churchteams was born and has been forged in a crucible of testing. We've learned that perseverance is the school-master God uses to build maturity and character not only in our lives but also in the company He has entrusted to us. By God's grace we can look back on the last 20 years and consider every challenge in building great software a bridge to the pure joy that God wants for all us.
And that's how a small group software became a full church management system.