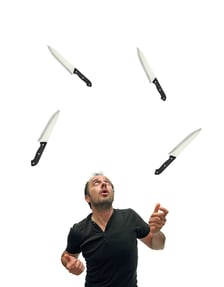 Most of us think of Excel about like we do the
grocery store
- you just go there when you need something. Others consider it their
office
and work in it all the time.
But, there are some out there that see Excel as the TV studio that permits them to do crazy things while telling the audience, "
don't try this at home
." These are the people who default to doing everything in Excel - too many things. We know this because our data team interacts with Excel users all the time and has come up with a list of things it's ok to do in Excel and another list of things NOT to do in Excel.

👍 IT'S OKAY TO USE EXCEL
To update existing Churchteams data from a Churchteams exported file that has the Churchteams MemberID in it. CT users generally handle this, but we can help if needed.
To add completely new people, giving, groups, notes, attendance, and other data from a separate software system. If the data is coming from another system, it should be fine to have us import. Our team will do this for you.
Any repetitive contribution import from a giving application other than Churchteams. CT users should develop a process to handle this. We'll help.
👎
IT'S NOT OKAY TO USE EXCEL
Do not use an external form provider like Google Forms, Formstack, etc. to have members register for things or update their own information. Instead, use an event registration or the member update push out email. Importing from spreadsheets created by other data entry sources is sketchy and creates duplicates.
Do not do data entry for paper forms like connection cards, sign-up sheets, etc. using a spreadsheet. Put it directly into Churchteams using check-in for data entry or go to the group > Registration > Register and enter them using the Register option (red arrow).
Do not send us an Excel file of 25 records or less with basic contact information in it. You can manually enter that data as fast as our data team can upload and you'll be able to more carefully watch for duplicates.
I'm not sure using Google forms is quite like juggling chef knives, but hopefully the image makes the point (pun) and sharpens (again) your Churchteams skills. I know it will keep our data team happy and that's much safer for all of us!