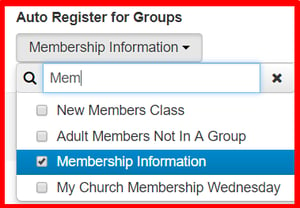 Problem:
When someone registers for something, the system simply puts them into that group (event, class, etc.). In many cases responses people choose require manually transferring or copying them to another group for additional follow-up.
Solution: Automated Group Registration.
A new option for registration attributes that will automatically copy the person to another (or more than one)
group
linked to that response.
Bonus Benefits:
When someone chooses a registration response that auto-registers them into another group, all the functionality of registration settings applies to this registration as well. This includes:
The leader of the new group can be automatically notified that someone has been added to their group.
A customized email for registering for this new group can be sent to them.
Registration attributes from the original group are copied to the new group.
Note: payment options and other customized form fields that you may have in the "copy to" group will not apply to the automated registration.
How to set up Automated Group Registration.
Create the registration group and the "copy to" group.

In the registration group go to Registration then Settings.

Select the option to Customize Registration Attributes.

When you create the attribute responses, you will see the option to link the response to another group.

Here is a 2 minute video I put together to show it to you and how it works.