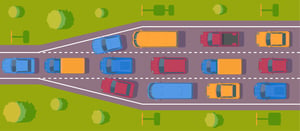 Bottleneck. If you've been in one of the hundreds of small group webinars I've done, you've heard me talk about how I used to feel like the bottleneck to people connecting in groups when I was on church staff. Sure, I was the catalyst in the sense of promoting, creating events, responding to cards, and meeting with people to help them connect. But because our team was central to all of these, I felt like we were the bottleneck in the system.
It seemed to me that there ought to be a way to use technology to connect people interested in groups to people leading groups without involving an intermediary person or team. After all isn't that what social media is all about? When we builti it, we came up with a descriptive if not creative name for the tool - Groupfinder. It has become the central hub of everything Churchteams, but in the beginning its primary purpose was connecting people.
If someone came up to you on Sunday and told you they wanted to find a small group, how would you respond? What would you ask them? In the beginning these questions were used to customize the Group Profile (Settings / Groups / Group Profile). The purpose of this profile grew with the software, but we've always retained the ability to customize and use it to answer these questions.
Fixed questions. There are a few questions related to finding groups that we did not make customizable. So, do not add these into your list of Group Profile questions. These fixed profile questions are completed in step one when you create a group. They fit into two categories.
When the group meets: Day, Time of Day, Meeting Frequency. Responses to the last 2 of these can be customized under Settings / Groups.
Where the group meeting: Address, City, State, Zip Code, Proximity. Proximity allows people looking for groups to put in their address and then find groups within a preferred radius from their house. The Map option on Groupfinder is based on this data.
Note: We intentionally left time vague to give leaders and potential attenders a reason to contact each other. This conversation is important to make coming to someone's home the first time feel less awkward. However, you can customize the times under Settings / Groups / Meeting Times.
Custom questions. It is important to match the language of the Group Profile to that of your church. You do this under Settings / Groups / Profile Questions. We provide 5 default questions to get you started. You can edit and delete these categories and their responses.
Ministry. The question was originally Group Type. As we added full ChMS functionality we changed the default language to reflect the entire church organization.
Lifestage. As a full church database include every lifestage from children to seniors. Larger settings often define adulthood by parenting stages. You may have lifestages in the Ministry category as well, but adding it here allows you to put things like mission trips or events under those two ministry areas yet make them distinguishable if needed by the lifestage question.
Gender. Sometimes churches prefer to put this under ministry and delete from the list. But doing this eliminates the ability to see all events or mission trips for example in one list and then have the flexibility to break them out separately.
Childcare. This is the second most commonly deleted profile question. It can be really helpful for large churches with groups meeting throughout the week and throughout the community as childcare is a huge issue for younger parents in choosing a group. But, lifestages based on parenting stages can be an indirect way to get to this.
Campus. The most commonly deleted profile question. This is a placeholder to illustrate how easy it is to use Churchteams to manage multi-campus ministry.
We've found these default fixed and custom questions provide a great template for church staff to begin to understand and setup the Groupfinder profile for connecting people. You can choose which of the options to use as Groupfinder filters by going to Settings / Groups / Browse Groups Page.

Edit Group Profile. Once your profile is set up like you want, then you are ready to create and align your groups. For any groups already in the system, you can re-align them on the group info page under the blue Edit button, choose Group Profile.
Build the link for your website. When you are ready to connect Groupfinder to your website, click on the Communicate button in the black navigation bar at the top, then Link Builder. You will use this tool to build the link that you want to put on your website. Give the page a title, then use the profile to select the groups you want to present on your website.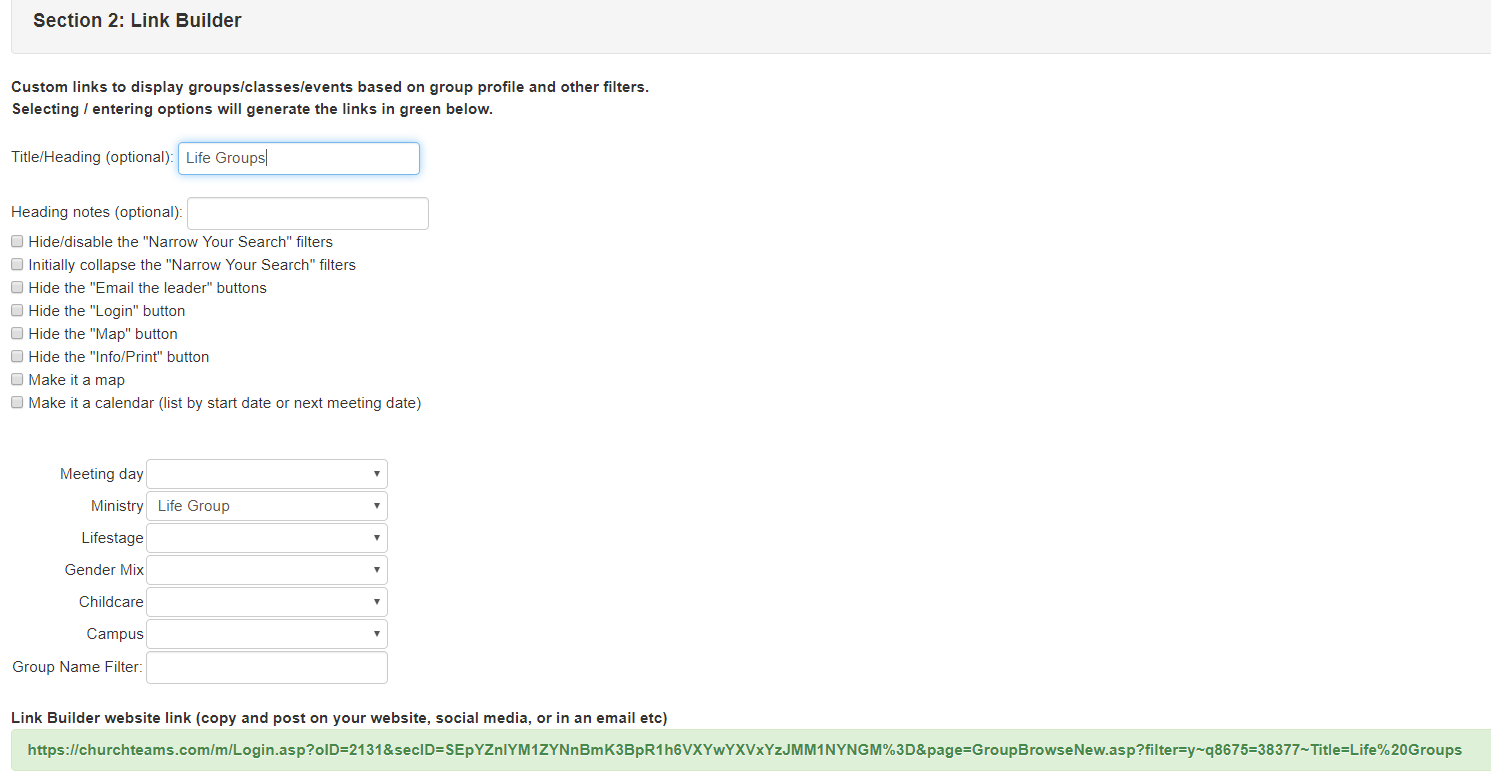 Just copy this link (green area) and put it on your website. The header of the resulting page will look something like this with groups that match the profile listed below it:

Once you put this link on your webpage, you've opened up the bottleneck. It's like you added as many lanes to finding a group as there are people with access to the Internet. It's a whole new world for connecting people to small groups. I've seen large churches that do multiple connection events per year connect over 2500 people in small groups in two weeks. It's incredible. In the next blog, we'll look at how we connect Groupfinder with texting and talk about the user-experience.