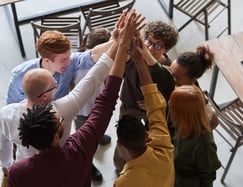 I am excited to announce that we released our Member App last night. It has been a long journey of observation, evaluation, and development of an App that fits how churches and people are really using them. I covered some of those big questions in
last week's blog post
.
The purpose of the App is to help your church improve communication with members. For us the catalyst for development was volunteer scheduling. Great communication is essential to coordinating the efforts of volunteers who make Sunday services happen.
You'll love how easy the App is for your volunteers to block out dates, and see their pending, accepted, and declined volunteer invitations. In fact many of your people will see the App the first time when they respond to an invitation to serve.
As we continued discussions about the scope of the App, we thought of all the other ways people interact with your church not only through the database but outside of it as well. This includes check-in, follow-up tasks, giving, groups, events, resources (livestream, message archives, directory, etc.), and contact preferences.
Check out this video that introduces the App to you and your church members. Use the share options in the footer to include it when you send out the invitation for people to click the link to install the App.
Check out the
Promo Member App Knowledge Base Article
for more details on sending out the link. If you're a staff person send yourself an invite email to set up your Member App from your Member Profile page. If you use Text-to-Church or Online Giving, text Me to that number.
Now that you've met the App and seen it's potential, here are 3 ways to use it to take your church communication to a new level.
Customize it. A few of the features are going to be available right from the start: Install, Giving, Schedule (whether they are serving or not), and contact preferences. Check-in will appear automatically when a check-in station is started. But for people to see their groups, events they can or have registered for, and resources; you need to set those up. Check out this Set Up Member App Knowledge Base article for specific instructions.


Publicize it. We recommend letting people know that they might see the option to install the App when they are in the software as a volunteer or logged in as a donor. But, that you will email adult members and regular attenders (or whomever you decide) an invitation to install the App.

You can also let people know that if they use online giving or are a volunteer or member they can text ME using your Text-to-Church number for immediate access to the App. This Promote Member App Knowledge Base article has even more ideas on how to get the word out.


Normalize it. Repetition is key to effective communication. Make the App part of your normal language for verbal and written announcements. Refer people to the App to register for events and access resources.

Show staff how to email the Member App link from the Member profile page.

Show staff how to email the Member App link from the Group Info page.


If you are not a Churchteams client,
join me for a Meet The Software webinar
live on Zoom every week. It is a fantastic way to get to know us and get an overview of new possibilities for your church.