Reid Hopkins is the Executive Pastor at The Brook in Madison, AL. He also is the founder of XPMinistry.com, a website dedicated to encouraging Executive Pastors and helping the church be excellent with the administrative side of ministry. We encourage you to check it out.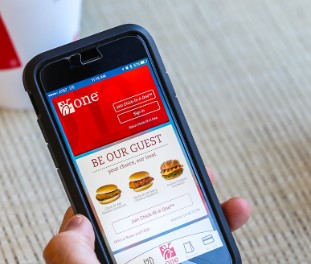 Next to our church is a busy Chick-fil-A. At lunchtime, it's hard to get in the parking
lot. Even though it has two lanes, the drive-thru line is so long people have to wait 30 minutes or more to place their order. One of my best friends works with the team that built the Chick-fil-A app. My favorite feature is the ability to place my order ahead of time for curbside pickup. I order from the office, then go over and pick up my meal skipping the line completely.
The Churchteams Check-in system does for your church what the App does for Chick-fil-A. Our church is experiencing growth right now. We just completed a big construction project (a new worship center), and our church campus is located in a rapidly growing area of our city.
Every week, we are meeting new families, and most of them have young children who need to be checked in to our preschool or children's ministries. Normally, this would create long lines at our check-in stations.
However, over the past few years, we have been successful at implementing Text-To-Check-In. This helps them skip the line. They check-in from their car and their stickers are already printed. This enables us to give guests the time and attention they need to help them get into our system for the first time.
If you're a client and haven't started using Text-To-Check-In, I highly encourage you to begin doing so. This feature has been a big win for our church for multiple reasons:
It is easy to set up and it is easy to use.
It has helped us be more efficient with our check-in.
Guest families don't have to wait as long in line for the first time, which helps us give
them a better first-time experience.
The people who use Text-To-Check-In can skip the line because their stickers have already printed.
Finally, if you aren't a Churchteams customer, let me encourage you to join today. Their Text-
To-Check-In feature is only one of the many great features they offer. I have been a
Churchteams customer for a decade now, and I can tell you from experience, Churchteams will take great care of you and your church. So, check it out today and you'll see why so many people have come to love their system.