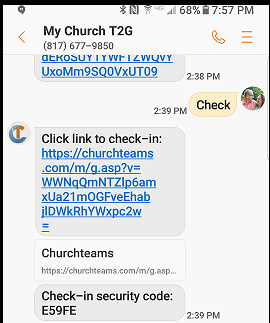 Receiving a text FROM a business or church is nothing new. You've probably been to a restaurant that uses text to notify you when your table is ready. Maybe your dentist texts a reminder of your appointment. Or your local yogurt shop texts you their latest flavors and deals.
Lots of churches use text to send updates, news and reminders. We've provided this technology for several years.
Text-FROM-Church starts by a staff or volunteer initiating communication from which people can respond.
The "Email request for updated information" report enables the church to initiate an email from which people can update their member profile.
From this they consent to text by selecting their mobile carrier making texting as easy and unlimited as email.
Links to register for anything can be sent by text or email.
Payment reminders for events are texted and emailed.
Volunteer invitations and reminders to serve are texted and emailed.
Prayer requests, pastoral needs and guest follow-up notifications and reminders are texted and emailed.
Text-TO-Church is different. It allows people to take the initiative rather than waiting to be prompted to respond.
Text-to-Give makes giving as easy as texting a dollar amount once they've created their account. And creating an account just involves adding a password. Try it yourself:
Text GIVE to (817) 677-9850 and follow instructions.
Use our dummy card 4003 0001 2345 6781 - expiration date 04/22 - cvv 123 to give $1.
Or text 1 MISSIONS to give $1 to missions instead of the general fund.
Add a password and create an account.
Text-to-Register. Imagine promoting a class or event in your worship folder or on a handout and telling people to simply text one keyword. After talking about it, a couple can register for a marriage seminar on their way home from church.
Try it: text DEMO to the same number. Be sure to add a child for childcare. (You'll need this for the Text-to-check-in demo.)
Customize the system to register adults, register for childcare, and take payments.
Tell people to save this text-the-church number in their contacts.
Text-to-Attend. Want a new way to capture worship attendance? This has been an age-old problem. Text can help.
Try it: text WORSHIP9 to the same number.
The system takes your attendance and can return a link to a connection form.
Text-to-Check-in. We are the first in the marketplace to provide text-to-check-in. As a family drives to church or walks into the building, they use their text-the-church number to text CHECK or CHECK-IN.
Try it: text CHECK to the same number. Mark attendance.
The security code is texted back so that it is also on your phone.
Attendance is taken.
Security tags are ready when they walk to the printer station.
The whole of the feature suite is greater than the sum of its parts. Someone registers for an event and remembers they want to give to a missions project. Stewardship increases. Mom matches her secure ID # from a text to the number on her child's name tag and remembers to register for New Members Class. Involvement increases.
Text FROM is a marketing and communication channel. Text TO empowers people to interact directly with the church database. We think it is time to realize the potential of texting both FROM and TO the church. Would you agree?